DO Vinos de Madrid, Madrid
Organic winery with wine cellar in DO Vinos de Madrid.
Property with 10 hectares of different varieties of vineyards with designation of origin, an equipped winery with storage space and a wine cellar used as a tasting room in Madrid.
Description
This is a wine-making estate with ten hectares of vineyards, five of which are planted with Cabernet Sauvignon, Syrah, Merlot, Tempranillo and the Malvar varieties.

All the wines produced in the winery are organic. Furthermore, as well as these vineyards on the estate, there is also a leasing contract of another 55 hectares planted with a variety of vines such as Tempranillo, Cabernet Sauvignon, Syrah, Merlot and Sauvignon Blanc. The total production from all of these vineyards reaches 330,000 kg.

The winery comes with installations that include manufacturing and storage equipment, ageing barrels, furniture, as well as hardware and software. The production capacity of the winery is 300,000 bottles.

It also includes a wine cellar used as a tasting room. Wine Tourism is a very important aspect to take into account due to its proximity to Madrid. Furthermore, the wine cellar offers an important source of income due to the sales of wine generated by Wine Tourism.
Infographic of the Denomination of Origin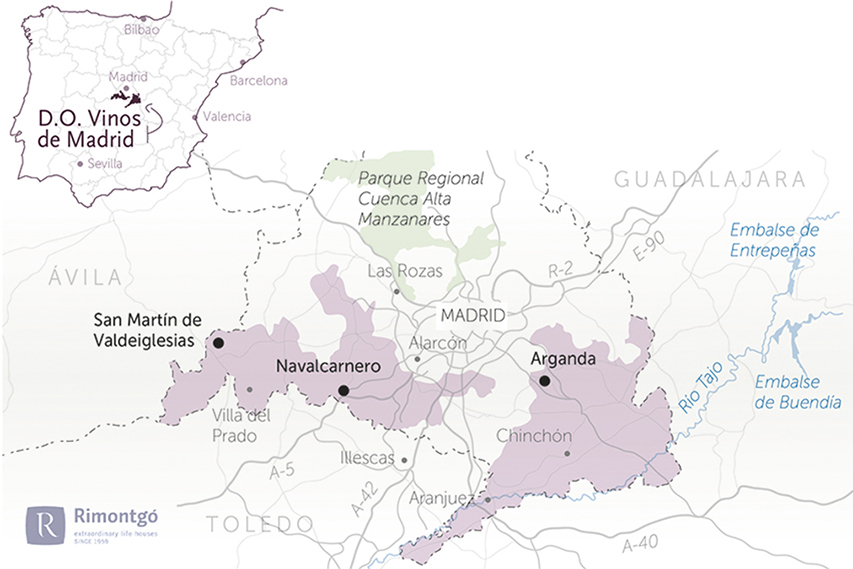 Characteristics
Change to imperial units (ft2, ac, °F)
Change to international units (m2, h, °C)
Winery area:

452 m24.865 ft2

Maximum production capacity:

300.000 l
Grape varieties:

Tempranillo

Cabernet Sauvignon

Merlot

Syrah

Topsoil:

Clay soil

Soil with pebbles

Organic farming:

Yes , with organic certification
Climate characteristics
Hours of sunshine per year:

2.900 h

Annual rainfall:

500 l/m25.382 l/ft2
---
Other similar wineries that may be of interest to you