Find your winery or vineyard
7 Wineries and Vineyards for sale in Languedoc / Roussillon
Infographic of the Region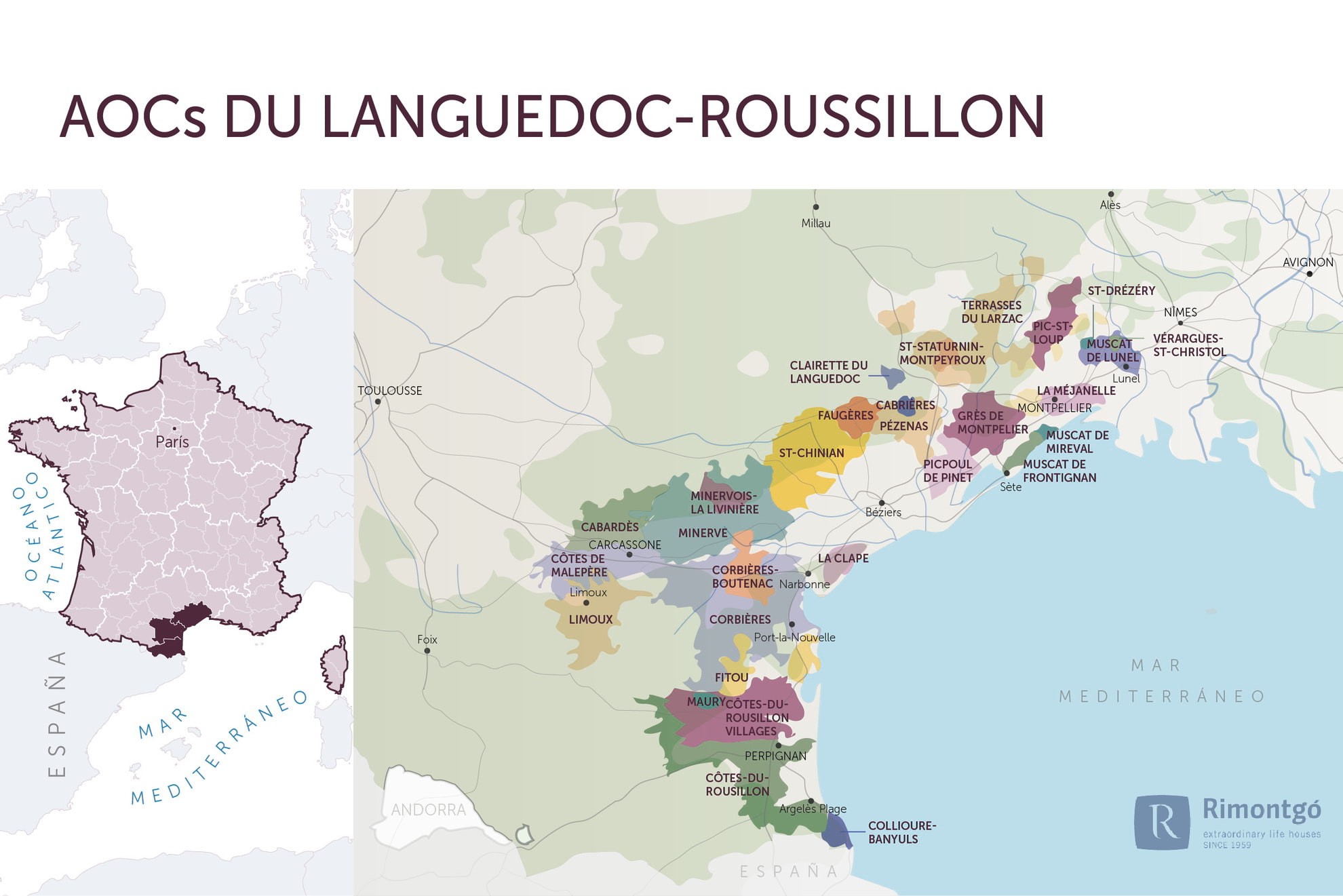 Region of Languedoc-Rousillon
Today, Languedoc-Rousillon's production is divided into five main categories:
Table wines: this once dominant category, today accounts for no more than 4% of regional production and regroups basic wines.
Local wines: this represents 67% of the region's total production. This groups together wines that do not benefit from an AOC either because they are not produced in an appellation area or because they do not meet the AOC criteria. The quality spectrum of the wines in this classification is therefore very wide.
The regional AOCs: since 2007 there is a large AOC Languedoc that covers the entire Languedoc-Roussillon vineyard. These are the low-end wines that used to belong to the AOC Coteaux de Roussillon, which is no longer in existence. The AOC Côtes de Roussillon, which covers 118 villages in the Eastern Pyrenees (5,745 ha), continues to exist.
Sub-regional AOCs: in this category, the requirements of the AOCs are higher than in the previous category. In Languedoc, the AOCs are Corbières (13,500 ha), Minervas (5,000 ha), Saint-Chinian (3,300 ha), Faugères (1,900 ha), Fitou (2,600 ha) and Clairette du Languedoc (70 ha).
This category also includes the terroirs included until recently in the AOC Coteaux du Languedoc: Pic Saint-Loup, La Clap, Sommières, Pézenas, Grès de Montpellier Terrasses du Larzac, Picpoul de Pinet, Terrasses de Béiers, Montpeyroux, Saint-Georges d'Orques, Carrières, La Méjanage, Quatorze, Saint-Christol, Saint-Drézéry, Saint-Saturnin and Vérargues.
In Roussillon in the north of the department, the AOC Côtes de Roussillon-Villages (2,191 ha) is made up of 32 villages. Since 2003 there is another appellation Côtes de Roussillon-Les Aspres which is located in the villages of Albères and Aspres, it is situated between the regional AOC and Côtes de Roussillon-Villages.
The AOCs of natural sweet wines, two sub-regional AOCs are important: AOC Revisaste (5,590 ha) which extends over 95 villages and the AOC Muscat de Rivesaltes (5,120 ha) which extends over 99 villages.
The communal AOCs: they are few in number, but recognised for the high quality of their production. In Languedoc, there are the AOC Corbières-Boutenac (1,30 ha), Minervois-La Livinière (2,600 ha), Muscat de Frontignan (797 ha), Muscat de Lunel (321 ha), Muscat de Mireval (260 ha) and Muscat de Saint-Jean-de-Minervois (195 ha). In Roussillon, the most renowned AOCs are Collioure (597 ha), Banyuls and Banyuls Grand Cru (1,173 ha) and Maury (507 ha).
More than thirty different grape varieties are grown in the vineyards of Languedoc-Roussillon. Some of them are autochthonous, used for lower quality wines which are rather marginal and replaced by higher value-added varieties imported from other regions.
Red varieties are in the majority, occupying 85% of the 250,000 ha of the wine-growing region. The most common variety is the Cariñena grape (60,000 ha), which has seen its surface area decrease by a third. It gives powerful wines, with colour and sometimes rustic tannins. It is usually blended with other finer varieties such as Garnacha, Cinsault, Syrah or Monastrell. Garnacha Tinta (45,000 ha) was introduced in France in the Middle Ages. It is widely used for the production of natural sweet wines (Banyuls, Maury...) and for aged wines when blended with Syrah or Monastrell. Syrah is enjoying a certain success in Languedoc where its surface area tripled between 1998 and 2005 to 43,000 ha. Its wines are powerful and suitable for ageing, tannic and aromatic and very elegant on certain terroirs.
The next most important variety in terms of vineyard surface is the Merlot grape (30,000 ha) imported from Bordeaux. Its wines are round and fruity, easy to market especially in the local wine category. Another red variety from Bordeaux and very present is Cabernet Sauvignon (19.000 ha) which gives coloured and tannic wines suitable for ageing. Cinsault (15.000 ha) produces soft and fruity wines as well as excellent rosés. More marginal but curatively important is the Monastrell, originally from Spain, which gives full-bodied, coloured and tannic wines. Other red varieties are also present such as Malbec, Fer Servadou, Lledonner Peludo or the small-grained red Muscat.
The white varieties, the queen variety without equal is the Chardonnay grape, if 30 years ago it did not cover 1.000 ha today there are 12.000 ha, this variety allows to produce dry, sparkling and sweet wines. It produces balanced, powerful and full-bodied wines that can be kept for years. Another imported variety that has penetrated in a spectacular way is the Sauvignon Blanc, years ago it was almost not present and today there are 6.000 ha planted with this variety and it is widely used for the category of local wines because they are very aromatic. Viognier has also been quite successful, about 2.000 ha of vineyards in the region are planted with this variety also mainly for the local wine category. Small-grained Muscat whites or rosés (8,000 ha) are mainly used for the production of natural sweet wines.
Grenache Blanc, reserved mainly for the production of sweet wines, has followed the opposite path to Chardonnay. Whereas 30 years ago it was the dominant variety, today it only represents 2,000 ha. Like Macabeo, also forgotten by winemakers. There are other marginal varieties that survive in these southern lands, among them Bourboulenc, original from Provence, Chenin Blanc, Clairette (old local variety used in sparkling wines such as Clairette-du-Languedoc), Mauzac which is mainly found in Limoux for the blanquette-de-limoux. Marsanne and Roussanne are also less talented here than in the Rhône Valley. Nor should we forget the white Piquepoul, a regional variety that owes its name to the AOC Coteaux du Languedoc-Picpoul de Pinet, whose production is located on the edge of the Chau lagoon.
The deep, almost black reds of the Languedoc hillsides, the delicate, golden whites of the sparkling wines of Limoux or the reflections of the old russet-coloured wines of Banyuls are just a sample of the wines of Languedoc-Roussillon. These wines distil a thousand perfumes of these sun-drenched lands. Aromas of scrubland, thyme and rosemary, very ripe red fruits, plums and flowers. It is difficult to hide this southern character behind such expressive aromas, distilled from varieties that are powerful in body and aromas and revealed by the Mediterranean climate that bathes these lands. On the palate, Languedoc-Rousillon wines offer different profiles depending on whether they are red, white, rosé, dry or sweet. They can be structured, expressive, unctuous, powerful or delicate, a wide palette of textures for the palate.
Discover more wineries and vineyards for sale in these wine regions in France
Tap on the map to activate Zoom