Find your winery or vineyard
8 Wineries and Vineyards for sale in DOC Rioja
Infographic of the Denomination of Origin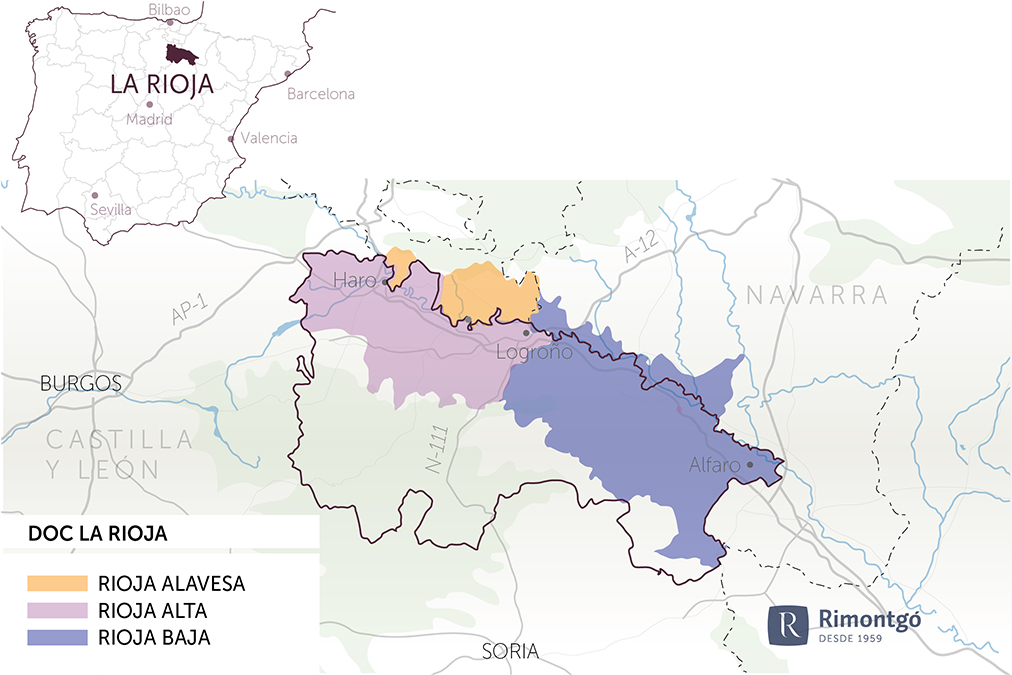 Change to imperial units (ft2, ac, °F)Change to international units (m2, h, °C)
D.O. year of foundation:

1925

Number of wineries (2017):

919

Total surface area:

63.137 ha156.012 ac

Maximum production allowed:

6.500 kg/ha5.799 lb/ac

Altitude of the vineyards:

Min: 350m

Max: 650m

Min: 1.148ft

Max: 2.133ft

Temperature:

Min: -4º

Max: 38º

Min: 25°F

Max: 100°F

Yearly hours of sun:

2.800

Yearly rainfall:

400 l/m24.306 l/ft2
DOC Rioja
LOCATION AND HISTORY
La Rioja is home to the largest number of wineries in Spain: 600 firms shared out amongst 63,593 hectares of vineyard around the upper course of the river Ebro. The geographic accidents of the area have contributed to defining a very well-marked out and differentiated natural region from those that surround it. Despite the name that it receives, the DO covers sub-areas of Álava and Navarra which also benefit from a large vine tradition. The history of the region is accredited, at least, from the Roman era. Having been affected by the phylloxera plague that struck Spain supposed, in the end, a large impulse for the expansion and modernisation of the industry in the area. So much so, that it was the first Spanish region to achieve the DO (1925) and, now, it is one of the only two (alongside Priorat) with the Qualified Designation of Origin (DOCa).
SOILS
Located in both margins of the river Ebro, we find ourselves in a privileged area for the cultivation of the vine. The soil presents a balanced structure (sand, silt, and clay), is slightly alkaline, low in organic matter, and with moderate water availability in summer. On the whole, the DO possesses strong sediment diversity (clayey limestone, ferrous clay and alluvials) which give the wines very interesting characteristics in taste.
CLIMATE
All of the area benefits from the mixing of two such opposing climates as the Atlantic and the Mediterranean, which provides soft temperatures and yearly rainfall of something beyond 440 l/m2. This involves suitable conditions for the development of the vine. In turn, there are also small varieties of cultivation depending on the microclimates, which are to do with the different orientation of the vineyard or the wind protection system.
TYPE OF GRAPE
Considered native to La Rioja, the Tempranillo grape is the most characteristic variety of this DO and occupies 75% of crops. There is also Garnacha Tinta, Mazuelo, Graciano and Maturana Tinta, whose sizes are expertly blended by the winery owners in order to produce young wines, crianzas, reservas and grandes reservas, much of the time aging in oak. Although the area is emphasised for its red wines, Viura is the main white variety, and there is also Malvasia, Garnacha Blanca, Tempranillo Blanco, Maturana Blanca, and Turruntés. As for international wines, there is Chardonnay, Sauvignon Blanc, and Verdejo. The majority of the wineries use their own formulas to blend, as well as opting for innovation, with excellent results in this decade.
Discover more wineries and vineyards for sale in these wine regions in Spain
Tap on the map to activate Zoom