Find your winery or vineyard
5 Wineries and Vineyards for sale in DO Montsant
Infographic of the Denomination of Origin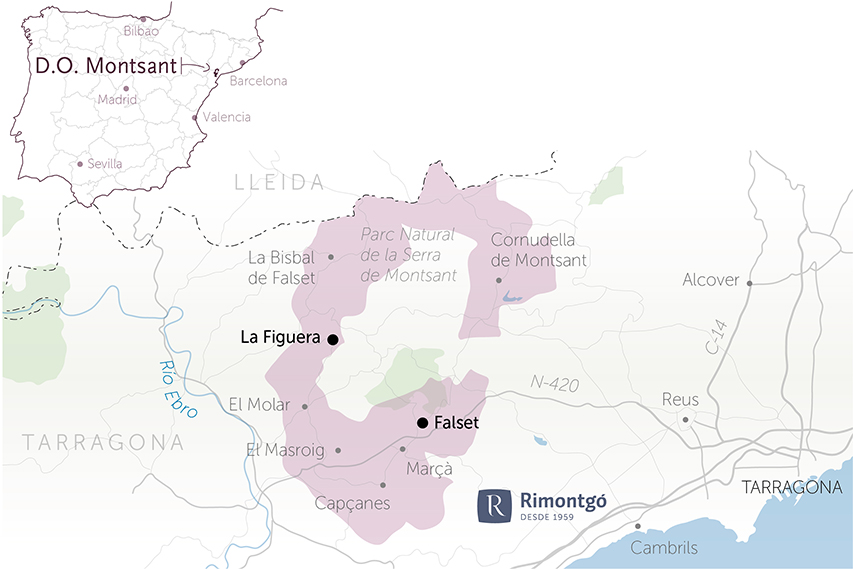 Change to imperial units (ft2, ac, °F)Change to international units (m2, h, °C)
D.O. year of foundation:

2002

Number of wineries (2017):

69

Total surface area:

1.950 ha4.818 ac

Maximum production allowed:

10.000 kg/ha8.921 lb/ac

Altitude of the vineyards:

Min: 200m

Max: 700m

Min: 656ft

Max: 2.297ft

Temperature:

Min: -3º

Max: 30º

Min: 27°F

Max: 86°F

Yearly hours of sun:

2.500

Yearly rainfall:

450 l/m24.844 l/ft2
DO Montsant
LOCATION AND HISTORY
The Designation of Origin of Monstant is found in the south of the province of Tarragona and is composed of 1,900 hectares of vineyards, distributed over twelve municipalities. Although it was recognised in 2002, it had already acquired prestige as a sub-area of the Designation of Origin in Tarragona, even though geographically it takes the shape of a horseshoe around Priorat. Its vineyards create a spectacularly lovely mountainous landscape, dispersed amongst olive groves (with excellent quality oil), forests and bare mountain peaks.
SOILS
The average altitude of the vineyards is 450 metres. They are elevated towards the Serra de Montalt in the southeast and towards the Serra de Montsant in the northeast. The soils are of limestone and loam on a base of granite and slate. On the whole, they can be simplified into three types: the limestone clay soil which is the majority of the area, sandy granite with a low water retention capacity, and some poor slate soils which appear in several areas.
CLIMATE
The climate is essentially Mediterranean, with continental influences. There are dry summers and autumnal rains with an average of 650mm, but in general it is a well-protected area from any kind of weather conditions, with unique characteristics for the cultivation of vine.
TYPE OF GRAPE
The red wines are the most common in the DO Montsant, given that more than 90% of the grape production is allocated to them. The historical varieties of the territory, and those that best define the identity of the DO, are Garnacha and Cariñena. International varieties are also allowed such as Cabernet Sauvignon, Merlot, Syrah and Chardonnay, and national ones such as Tempranillo, Monastrell, Parellada and Muscat. In regards to the white wines, it is mainly Garnacha blanca and Macabeo that are produced. On the other hand, the liqueur wines, sweet wines, long-established ones and mistela in this territory have a long tradition. It is also a good indicator of the new ways to produce wine, since the production is divided amongst the cooperatives and the family wineries, which are often advised by young and trained oenologists.
Discover more wineries and vineyards for sale in these wine regions in Spain
Tap on the map to activate Zoom