Find your winery or vineyard
7 Wineries and Vineyards for sale in DOQ Priorat
Infographic of the Denomination of Origin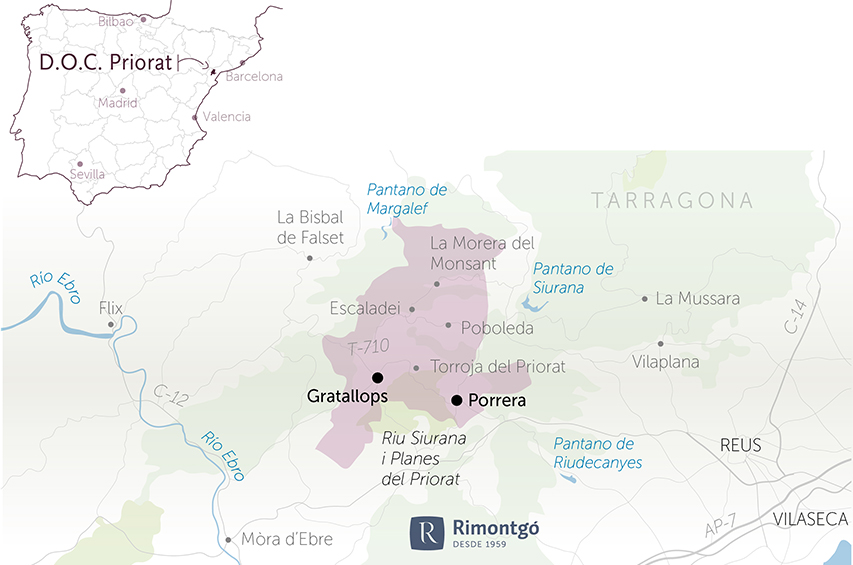 Change to imperial units (ft2, ac, °F)Change to international units (m2, h, °C)
D.O. year of foundation:

1954

Number of wineries (2017):

106

Total surface area:

1.930 ha4.769 ac

Maximum production allowed:

6.000 kg/ha5.353 lb/ac

Altitude of the vineyards:

Min: 200m

Max: 650m

Min: 656ft

Max: 2.133ft

Temperature:

Min: -3º

Max: 40º

Min: 27°F

Max: 104°F

Yearly hours of sun:

2.800

Yearly rainfall:

500 l/m25.382 l/ft2
DOQ Priorat
LOCATION AND HISTORY
Between the two unique regions of Spain with the Qualified Designation of Origin (DOQ), the Priorat is found, located in Tarragona, in an area of black hills where vibrant red wines have been produced more than eight centuries ago. Its history dates back to the Carthusian monks from the 12th century, who brought the knowledge and techniques from Provence in order to develop very resistant viticulture. The remains of that era continue to supply an air of mystery amongst visitors. Nevertheless, the area has become famous in the last decade, after the producers applied new technologies and opted for other types of vineyards, with both French and native varieties.
SOILS
These soils are in the 'Llicorella' territory, a laminar and brittle rock where they seep through the roots of the vines in search of humidity. This is one of the main characteristics of the Priorat vine, which grows on bedrock. The soil has very little depth, barely a layer, before reaching the stones and the materials of the Paleozoic Era, mainly slate, so the organic matter content is low. However, this increases the resistance of the vine, accustomed to burying its roots profoundly in order to find nutrients.
CLIMATE
The relative isolation regarding the influence of the sea and, at the same time, the protection that the sierra de Monstant offers the cold winds of the North, gives the area of the DO Priorat some quite peculiar climatic conditions. In general, the more widespread climate is the continental one, although there are noticeable contrasts amongst the valleys and the highlands. The summers are long, dry and hot, even though the temperature can fall to zero in winter. The frost and hail appear occasionally, just like the excessive heat of the summer, so there are noticeable thermal disparities. The average rainfall is 550-600mm.
TYPE OF GRAPE
The classic Priorat grape is Garnacha Tinta, which can be found in the majority of the oldest vineyards, although recently it is making a strong investment in Cariñena. Other authorised grapes are Garnacha Peluda, Cabernet-Sauvignon, Merlot, Syrah and Cabernet. There are three varieties of white grape (Garnacha Blanca, Macabeo Pedro Ximénez and Chenin Blanc) and rosé wine is also made with Garnacha tinta. The efficiency tends to be lower due to the toughness of the paved soil, but instead the process of production ends up being more thorough.
Discover more wineries and vineyards for sale in these wine regions in Spain
Tap on the map to activate Zoom