Find your winery or vineyard
1 Wineries and Vineyards for sale in DO Mendoza Este
Infographic of the Denomination of Origin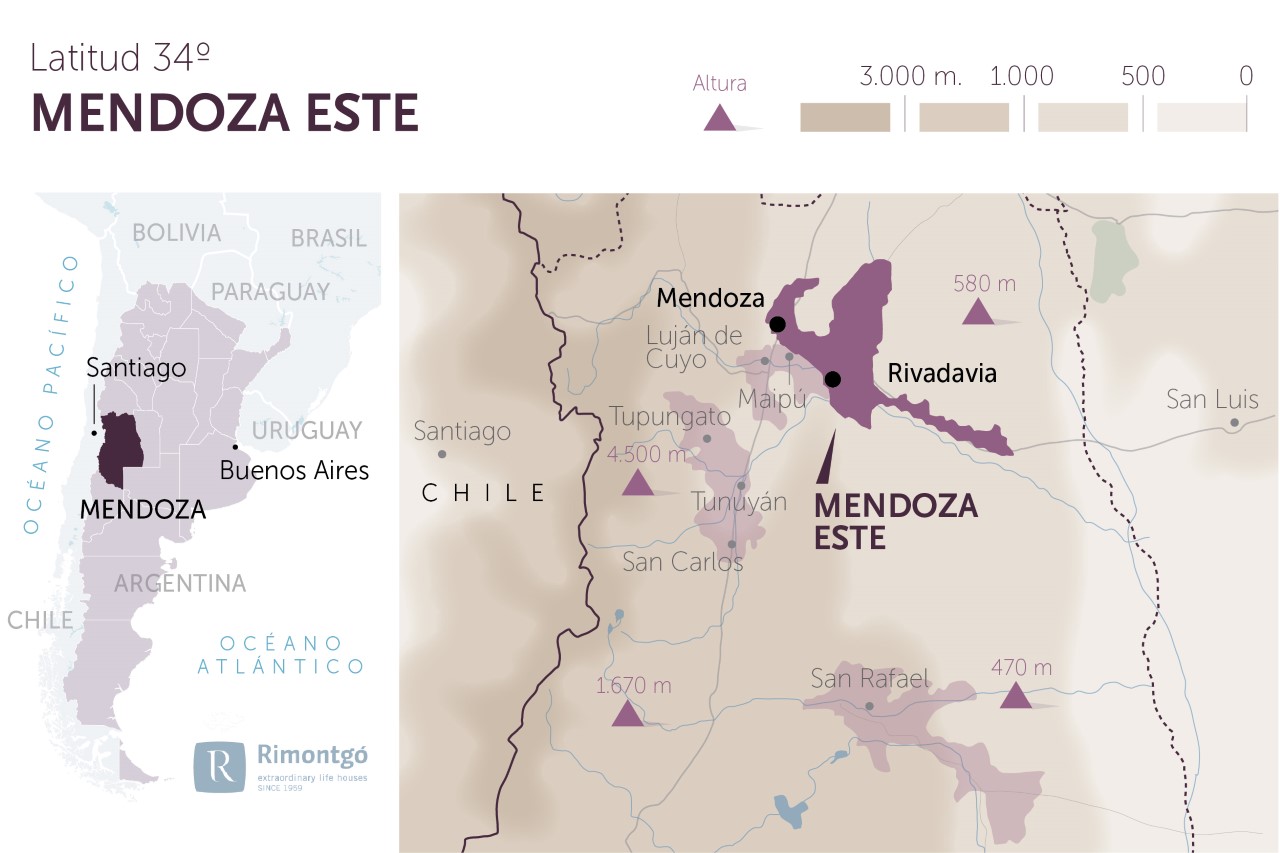 Change to imperial units (ft2, ac, °F)Change to international units (m2, h, °C)
Number of wineries (2017):

71

Total surface area:

31.000 ha76.601 ac

Altitude of the vineyards:

Min: 600m

Max: 700m

Min: 1.969ft

Max: 2.297ft

Temperature:

Average: 16º61°F

Yearly rainfall:

220 l/m22.368 l/ft2
Designation of Origin Mendoza del Este
LOCATION AND HISTORY
This oasis to the east is located at 33º south latitude and covers the provinces of San Martín, Rivadavia, Junín, Santa Rosa and La Paz. The designation of origin Mendoza Este is the one with the largest wine production capacity among all those that form the province of Mendoza, thanks to the more than 1,500 km2 dedicated to vine cultivation, which means almost half of the total land dedicated to vineyards in Mendoza.
SOILS
The soils that occupy the surface of the designation of origin Mendoza East are mainly sandy-loam or sandy-loam, although there are also saline soils. The irrigation methods in this wine region are drip irrigation and in some cases flood irrigation. Soil hydration is thanks to the water from the Mendoza River and the Tunuyán River, complemented by the flow from different underground wells.
CLIMATE
The climate in the designation of origin Mendoza East is mild, with a great number of hours of sun, so the grapes enjoy great exposure, a key factor to get a perfect ripening. On the eastern side of this Argentinean wine region, the altitude is lower so the climate is slightly warmer than in the rest of the appellation. The biggest meteorological problem for the vineyards is the threat of hail, which can occur on the coldest days of the winter months.
WINERIES AND TYPE OF GRAPE
The most commonly used systems in the cultivation of vines in the DO Mendoza Este are the vine arbour and the trellis system (high and low). This wine region produces both table wine, must and concentrated grape juice. It is also important the production of grapes for fresh consumption and raisins. The most widely planted varieties in this area are Tempranillo, Bonarda or Petit Verdot, as well as Malbec. The most important wineries in Mendoza Este are Carelli, Crotta, Tamarí, Zuccardi, Argento and Bodegas Esmeralda.
Discover more wineries and vineyards for sale in these wine regions in Argentina
Tap on the map to activate Zoom