Find your winery or vineyard
More than 10 Wineries and Vineyards for sale in DO La Mancha
Infographic of the Denomination of Origin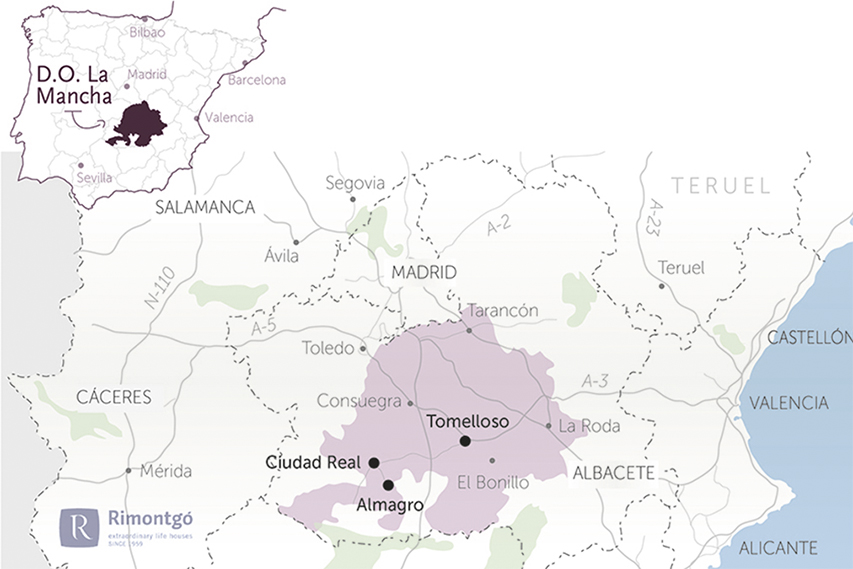 Change to imperial units (ft2, ac, °F)Change to international units (m2, h, °C)
D.O. year of foundation:

1976

Number of wineries (2017):

257

Total surface area:

164.553 ha406.610 ac

Maximum production allowed:

12.500 kg/ha11.152 lb/ac

Altitude of the vineyards:

Min: 600m

Max: 800m

Min: 1.969ft

Max: 2.625ft

Temperature:

Min: -15º

Max: 45º

Min: 5°F

Max: 113°F

Yearly hours of sun:

3.000

Yearly rainfall:

350 l/m23.767 l/ft2
DO La Mancha
LOCATION AND HISTORY
Located on the Spanish southern plateau, just 60 kilometres from Madrid, La Mancha is the largest DO in Spain, with close to 30,700km2. The vineyards are distributed in 182 towns: 12 in the province of Albacete, 58 in Ciudad Real, 66 in Cuenca and 46 in Toledo. The strength of the tradition in the viticulture of the area reflects a series of intrinsic and natural conditions which encourages the cultivation of the grape and the wines with well-defined qualities: the quality of the fruit, the ripening cycle, and the health of the vines are extraordinary.
SOILS
In the DO La Mancha, the soil rises consistently from North to South, between Aranjuez at 489 metres and La Mancha at 700 metres. Although it is an expansive area, the terrain could be defined as flat and the soils maintain constant characteristics. They are sandy clay soils of a red-brown colour, which originates in the sediments of Miocene, poor in organic content and rich in limestone and chalk.
CLIMATE
The plains of La Mancha, located at an average height of around 700 metres, have an archetypal continental climate: the frozen winters yield the torrid summers. The temperatures of summer often reach 45ºC, whilst in the winter the thermometer can get as low as -12 ºC. The rainfall is low; there are more than 3000 hours of sun per year, which means 95% of the vineyards are on dry soil. All of these contrasts favour the nature of the grape.
TYPE OF GRAPE
Although the grape variety Airén continues to prevail in the vineyards of the DO, the cultivation of Cencibel (or Tempranillo) has drastically increased, now at more than 30,600 hectares. Due to the prominent restructuring that is taking place in the vineyards of the region, the producers of the DO have been planting other varieties such as Macabeo/Viura, Verdejo, Sauvignon Blanc, and Chardonnay for the white wines. For the reds, as well as Cencibel (Tempranillo), Garnacha, Monastrell, Graciano, Mencía, and Moravia (which is found in certain areas of Albacete and Cuenca), the French varieties already have a strong presence, such as Cabernet Sauvignon, Merlot and Syrah, as well as Pinot Noir, Malbec, Cabernet Franc, and Petit Verdot.
Discover more wineries and vineyards for sale in these wine regions in Spain
Tap on the map to activate Zoom