Find your winery or vineyard
More than 10 Wineries and Vineyards for sale in Castilla-La Mancha
Infographic of the Region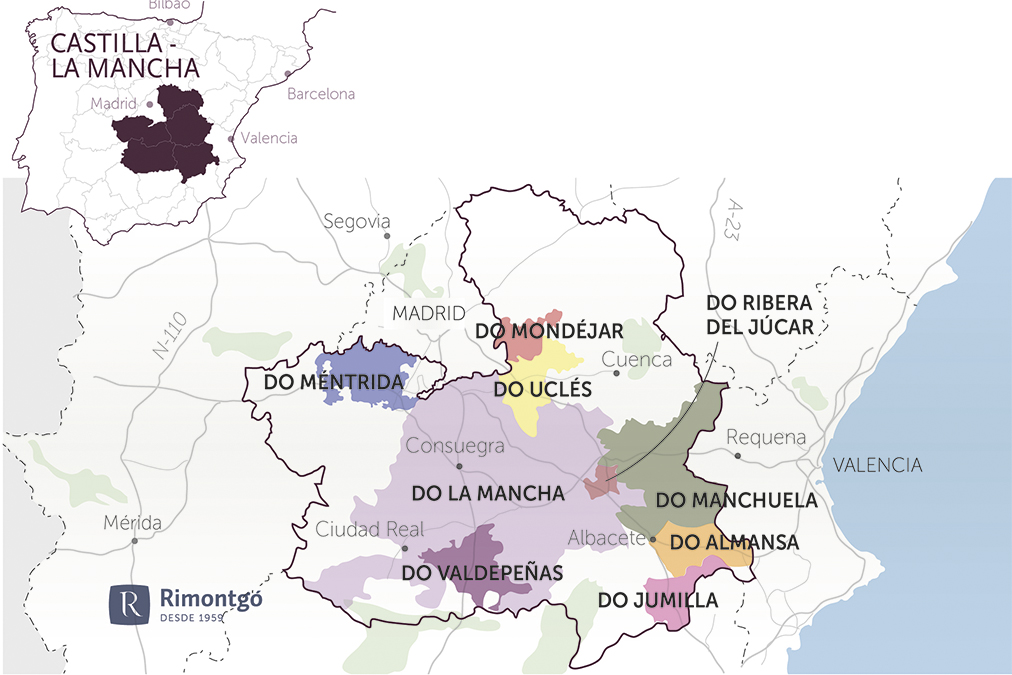 Castilla-La Mancha
The wineries of Castilla-La Mancha are located on a large part of the southern half of Spain and include the provinces of Albacete, Ciudad Real, Cuenca, Guadalajara and Toledo.
This is the largest wine region in the world, with some of the most traditional Designations of Origin in Spain, such as La Mancha or Valdepeñas. The first years of the 21st century have given rise to new Designations of Origin in the vineyards of Castilla La-Mancha such as DOUclés, DO Manchuela, DO Ribera del Júcar, DO Almansa, DO Méntrida and DO Mondéjar, as well as Vinos de Pago such as Dominio de Valdepusa, Finca Élez, Pago Guijoso, Dehesa del Carrizal, and Campo de la Guardia. There is also the Protected Geographical Indication GI of Vinos de la Tierra of Castile.
The white Airén grape, one of the most popular in the world, has its homeland in Castilla-La Mancha. Other white grapes grown under the brand name of wineries from Castilla La Mancha are Torrontés, Merseguera, Malvar, Viognier and Macabeo. As for red wines, the wine producers work with Cencíbel (Tempranillo), Cabernet Sauvignon, Merlot, Garnacha, Monastrell, Petit Verdot, Bobal or Syrah. The olive oils produced are also of excellent quality, up to the point that this autonomous community has four DO of recognized oil.
Discover more wineries and vineyards for sale in these wine regions in Spain
Tap on the map to activate Zoom