Find your winery or vineyard
4 Wineries and Vineyards for sale in DO Valdeorras
Infographic of the Denomination of Origin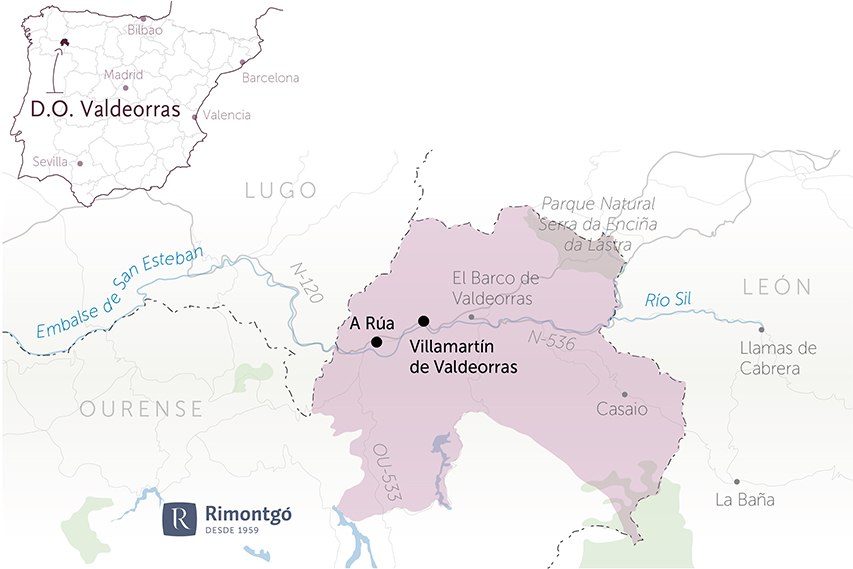 Change to imperial units (ft2, ac, °F)Change to international units (m2, h, °C)
D.O. year of foundation:

1957

Number of wineries (2017):

45

Total surface area:

1.171 ha2.894 ac

Maximum production allowed:

10.000 kg/ha8.921 lb/ac

Altitude of the vineyards:

Min: 300m

Max: 700m

Min: 984ft

Max: 2.297ft

Temperature:

Min: -8º

Max: 40º

Min: 18°F

Max: 104°F

Yearly hours of sun:

2.150

Yearly rainfall:

925 l/m29.957 l/ft2
DO Valdeorras
LOCATION AND HISTORY
In the course of the river Sil, which travels west, from Castile and León to Ourense specifically, Valdeorras is found, a large passage between mountain ranges home to vineyards planted in the valley slopes. The region is made up of nine towns: A Rúa, A Viega, Carballeda, Larouco, O Barco, O Bolo, Petín, Rubia, and Vilamartín. At the same time, the production areas also occupy a large part of the river basins of Xares and Bilbei.
SOILS
The wineries of this Designation of Origin are mainly found between 300 and 320 meters on the southern facing valley slopes. The soils on which they settle are varied: they can be shallow with a slate base; granite and sand; or with sediments on terraces and an abundance of stone. In any case, they are highly alluvial.
CLIMATE
To the east of Galicia, the Atlantic and continental climates are found, as well as the protected influences of the valley's microclimate, they provide warm, sunny summers and long cold winters. There is a lot of rain in the area, between 850mm and 1,000mm, since the sea winds and dry air usually result in storms throughout the year.
TYPE OF GRAPE
The diversity of the soils in Valdeorras allow the region to have two single-varietal wines, which in recent times, have made great progress in the recovery of their native grapes. We refer to the white Godella, with fruity aromas and to a lesser extent than Mencía, marked by its intense purple color. There is also a spectacular new generation of white wines thanks to the incorporation of technology. It is important to point out Valdeorras Castas Nobles, a newly created wine category with 85% of recommended varieties.
Discover more wineries and vineyards for sale in these wine regions in Spain
Tap on the map to activate Zoom