Find your winery or vineyard
2 Wineries and Vineyards for sale in DOC Tras Os Montes
Infographic of the Denomination of Origin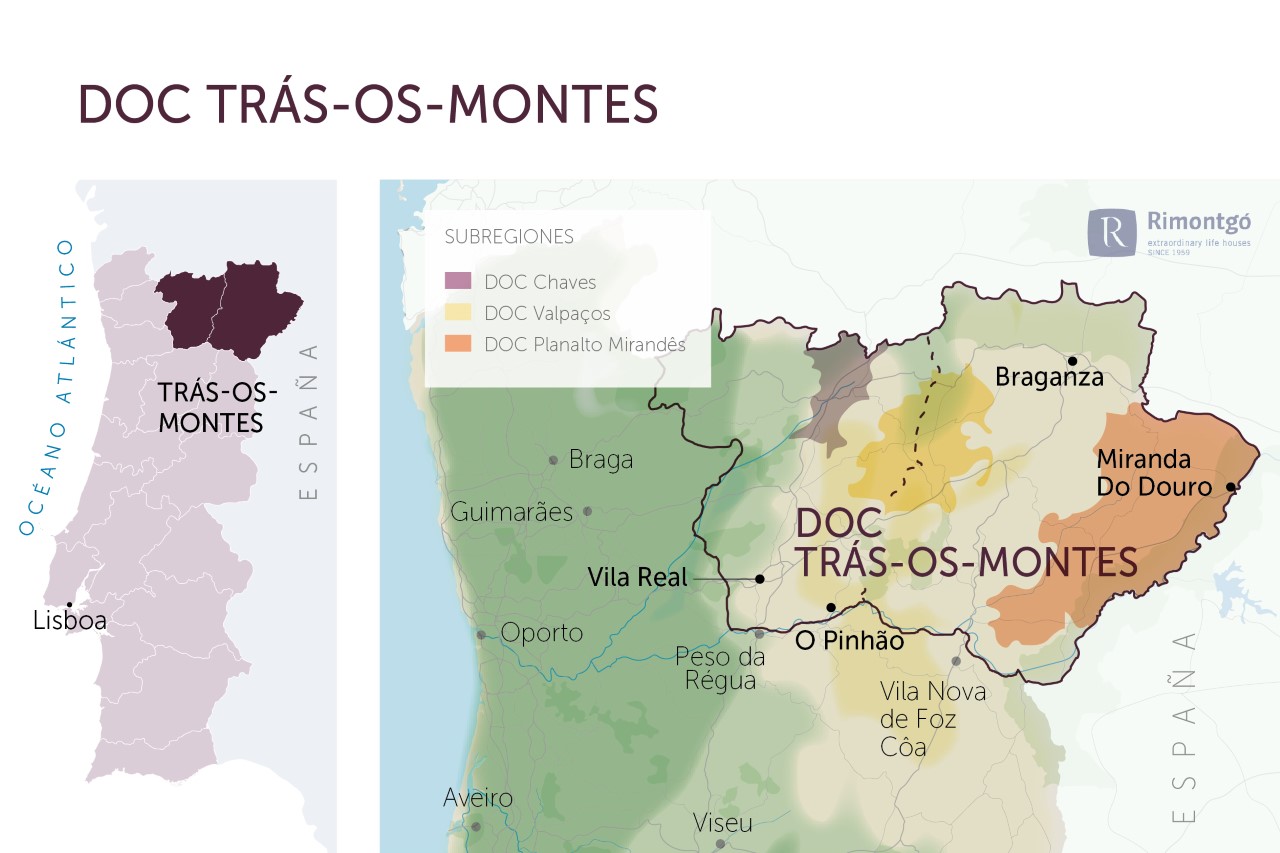 Change to imperial units (ft2, ac, °F)Change to international units (m2, h, °C)
D.O. year of foundation:

2006

Number of wineries (2017):

110

Total surface area:

60.970 ha150.657 ac

Maximum production allowed:

5.500 kg/ha4.907 lb/ac

Altitude of the vineyards:

Min: 400m

Max: 800m

Min: 1.312ft

Max: 2.625ft

Temperature:

Min: 1º

Max: 28º

Min: 34°F

Max: 82°F

Yearly rainfall:

800 l/m28.611 l/ft2
DOC TRAS-OS-MONTES
LOCATION AND HISTORY
The Tras-os-Montes region encompasses the districts of Bragança and Vila Real, with the exception of two towns that form part of the Douro and Vinhos Verdes. It is the corner at the northwest of Portugal, separated from the coastline by the mountain range of Gerês, Barroso, Cabreira, Alvao and Marao. This is the reason why it means behind the mountains…It is an isolated area quite inaccessible.
Due to the geographical, orographic and climatic conditions of the region, the tras-os-montes wines have their own characteristics as they do not have the alcoholic content of Douro wines or the low alcoholic content and accentuated acidity that characterise green wines. In climatic terms, terra quente is the name given to the south and east of the Douro and terra fría to the north of the Douro, which corresponds to the continental plateau (500 - 1,000 m).
SOILS AND CLIMATE
It is a region with characteristics of the plateau, being cut out by certain orographic nuclei at an altitude of 400 and 800 metres. Geologically, it is dominated by Precambrian slate in some areas close to Spain, but mainly granite outcrops and has a large hydrographic network, made up of the main tributaries of the Douro river.
In the tras-os-montes region, there are several winegrowing areas that produce red and white wines with differentiated characteristics, of recognised quality and which deserve special mention, those of the district of Bragança and those of the district of Vila Real.
GRAPE VARIETIES
The most represented grape varieties in the region are Bastardo, Tinta Amarela, Tinta Carvalha, Moreto, Tourigo and Alvarelhao for red wines and Boal, Códega, Gouveio and Tarrantéz for white wines. Practically the same varieties as in DOC Douro but in addition the foreign varieties such as Cabernet Sauvignon, Pinot Noir, Chardonnay, Sauvignon Blanc, Gewurtztraminer and Riesling are also allowed.
WINERIES
Rosé is still important in the region and the cooperatives. Sogrape have their own winery in the area, although there are few producers who export their wines. Two other important wineries are Casal de Valle Pradinhos and Quinta do Acorssó, near the spa town of Vidago.
Discover more wineries and vineyards for sale in these wine regions in Portugal
Tap on the map to activate Zoom