Find your winery or vineyard
More than 20 Wineries and Vineyards for sale in Norte
Infographic of the Region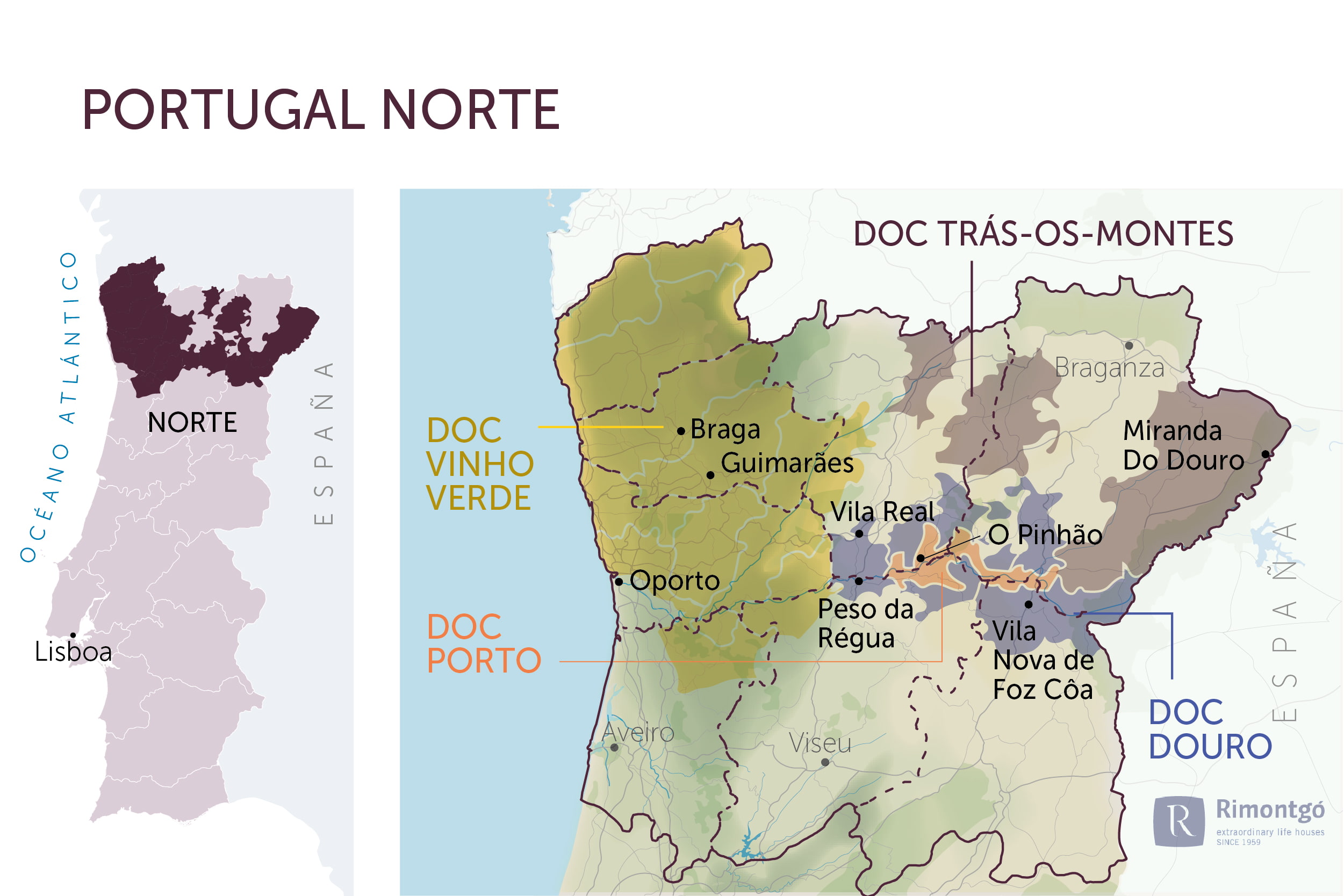 Wineries in the North Region, the most extensive and with the largest wine-making tradition
The north region, to the north of Portugal, is one of the most populated areas in the country with several wineries for sale distributed along its districts: Viana do Castelo, Braga, Porto, Vila Real and Bragança. The capital city being Porto.
Vineyards in the north region expand on the whole area, although the wine production is focused on the Designations of Origin of DOC Vinhos Verdes, DOC Douro y DOC Porto (the area with the longest export tradition in Portugal), as well as the DOC Tras-os-Montes and the IGP Minho, Douriense and Transmontano.
Wineries in the north of Portugal produce fortified wines such as Port wine. There are also wineries for sale dedicated to the production of non-fortified wines made of many different grape varieties.
The most important varieties for the red vinhos verdes are: Azal tinto, Borraçal, Vinhao, Brancelho, Espadeiro Tinto, Pedral e Rabo de Ovelha. For the white varieties: Alvarinho, Loureiro, Treixadura, Azal Branco, Avesso, Batoca and Pederna (Arinto).
For the Port and Douro wines the varieties are: Touriga Nacional and Touriga Franca, Tinta Roriz, Tinta Barroca, Tinta Cao, Sousao, as well as Amarela, Bastardo and Moursico and for the white varieties: Viosinho, Rabigato and Gouveio, Malvasía Fina, Codega do Larinho, Arinto and Moscatel Galego. For the moment, the international varieties are of the DOC Douro.
For the Tinto Transmontano the used varieties are: Bastardo, Tinta Amarela, Tinta Carvalha, Moreto, Tourigo and Alvarelhao and Boal, Códega, Gouveio and Tarrantéz for the white varieties. Practically are the same varieties in DOC Douro; however, international varieties such as Cabernet Sauvignon, Pinot Noir, Chardonnay, Sauvignon Blanc, Gewurtztraminer and Riesling are also allowed.
Discover more wineries and vineyards for sale in these wine regions in Portugal
Tap on the map to activate Zoom