Find your winery or vineyard
Infographic of the Denomination of Origin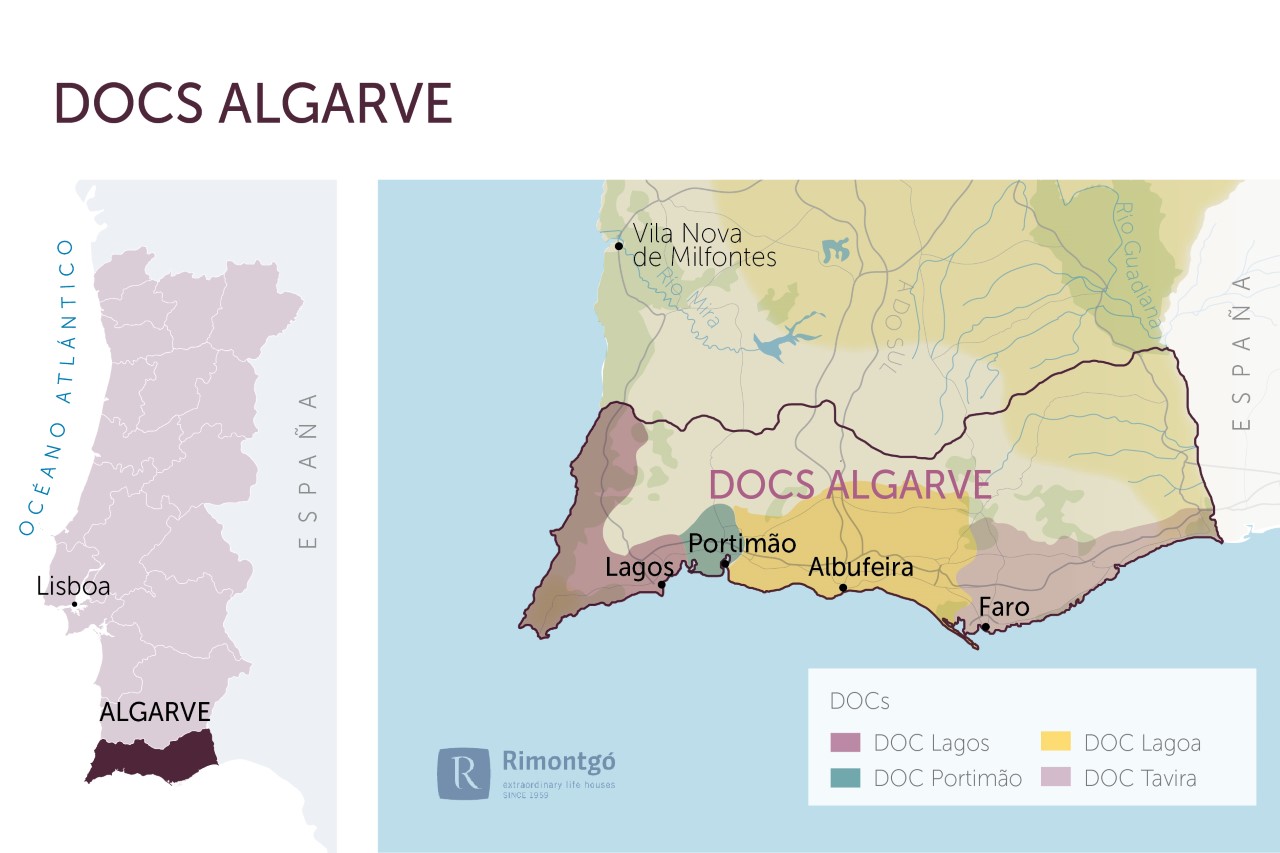 Change to imperial units (ft2, ac, °F)Change to international units (m2, h, °C)
D.O. year of foundation:

1980

Number of wineries (2017):

45

Total surface area:

14.000 ha34.594 ac

Maximum production allowed:

7.500 kg/ha6.691 lb/ac

Altitude of the vineyards:

Min: 100m

Max: 900m

Min: 328ft

Max: 2.953ft

Temperature:

Min: 15º

Max: 29º

Min: 59°F

Max: 84°F

Yearly hours of sun:

3.000

Yearly rainfall:

700 l/m27.535 l/ft2
Algarve District
LOCATION
The Algarve wine-growing region was recognised in 1980 and it borders to the north by the chalky terrain of the Algarve mountain range and in the part relating to the municipality of Aljezur by the Odeceixe riverbank; to the south and west by the Atlantic Ocean and to the east by the Guadiana river. This region is divided into subregions: Lagoa, Lagos, Portimao and Tavira. Lagoa is comprised by the municipalities of Albufeira, Lagoa, Loulé and Silves. Lagos by Aljezur, Lagos and Vila do Bispo. Portimao by Portimao and Tavira by Castro Marim, Faro, Olhao, S. Bras de Alportel, Tavira and Vila Real de Santo Antonio.
SUBREGIONS
DOC Lagoa, DOC Lagos, DOC Portimao and DOC Tavira
In the 1980s, more than 80% of the wine produced in the entire region was elaborated by the cooperatives of Lagoa, Portimao, Tavira and Lagos. This region can also produce liqueur wines based on the Crato Branco variety and the white muscat grape varieties (minimum 85% of the mentioned varieties).
POINTS OF INTEREST
The Algarve is usually associated with beach landscapes; however, the inner part of the region, also benefits from beautiful landscapes and small towns such as Silves or Monchique.
Highlights of this area are the Ria Formosa Natural Park, a protected coastal lagoon with an area of approximately 18,000ha. It is considered an important bird area (IBA), but there is still much more to discover on this unique area.
Albufeira is the most populated coastal destinations in the Algarve and there is also Faro, Tavira, Portimao and Lagos.
D.O./Valle (wine regions)
Discover more wineries and vineyards for sale in these wine regions in Portugal
Tap on the map to activate Zoom