Find your winery or vineyard
Infographic of the Denomination of Origin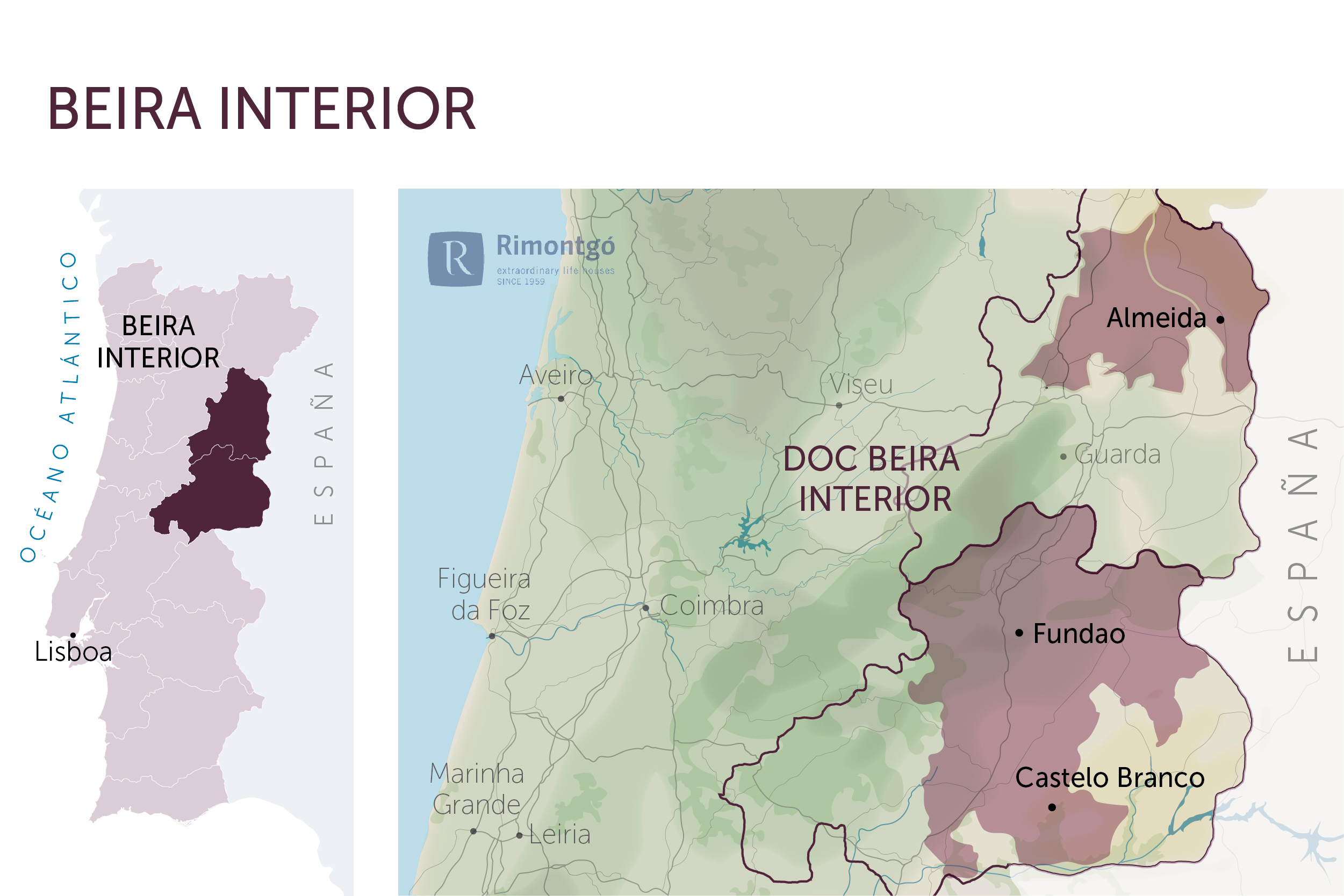 Change to imperial units (ft2, ac, °F)Change to international units (m2, h, °C)
D.O. year of foundation:

1999

Number of wineries (2017):

21.000

Total surface area:

16.000 ha39.536 ac

Maximum production allowed:

33.000 kg/ha29.441 lb/ac

Altitude of the vineyards:

Min: 400m

Max: 750m

Min: 1.312ft

Max: 2.461ft

Temperature:

Min: 8º

Max: 18º

Min: 46°F

Max: 64°F

Yearly rainfall:

1.600 l/m217.222 l/ft2
LOCATION AND SUBREGIONS
In the DOC Beira Interior it can be considered two wine-making regions with well-defined characteristics and with a long and high-quality wine-making tradition. One is to the north of the province of Beira Alta and the other one, further south, in the province of Beira Baja.
The area located in the province of Beira Alta comprises the towns of Pinhel, Figueira de Castelo Rodrigo, Trancoso, Guarda, Almedia and Celorico de Beira. It includes the valley of the Coa river, a tributary of the Douro, which is the continuation of the Spanish plateau and has fortified towns along its length that testify to the battles that have taken place over the centuries.
POINTS OF INTEREST
Guarda is the highest city in Portugal. In the centre of Guarda is found Praça Velha featuring arcades dating back to the 16th century. This is the starting point of the narrow streets with granite palaces and ancient houses with characteristic gothic windows and gargoyles. Walls, gates and Medieval towers protect the entire historic town.
The Jewish Quarter is besides the walls and the Bishop's Palace is home to the Guarda Museum.
There are other remarkable monuments such as the Misericórdia Church with a Baroque interior and the Church of São Vicente with the typical tiles. The Chapel of Nossa Senhora do Mileu features a Romanesque style from before the 12th century.
D.O./Valle (wine regions)
Discover more wineries and vineyards for sale in these wine regions in Portugal
Tap on the map to activate Zoom