Find your winery or vineyard
5 Wineries and Vineyards for sale in Centro
Infographic of the Region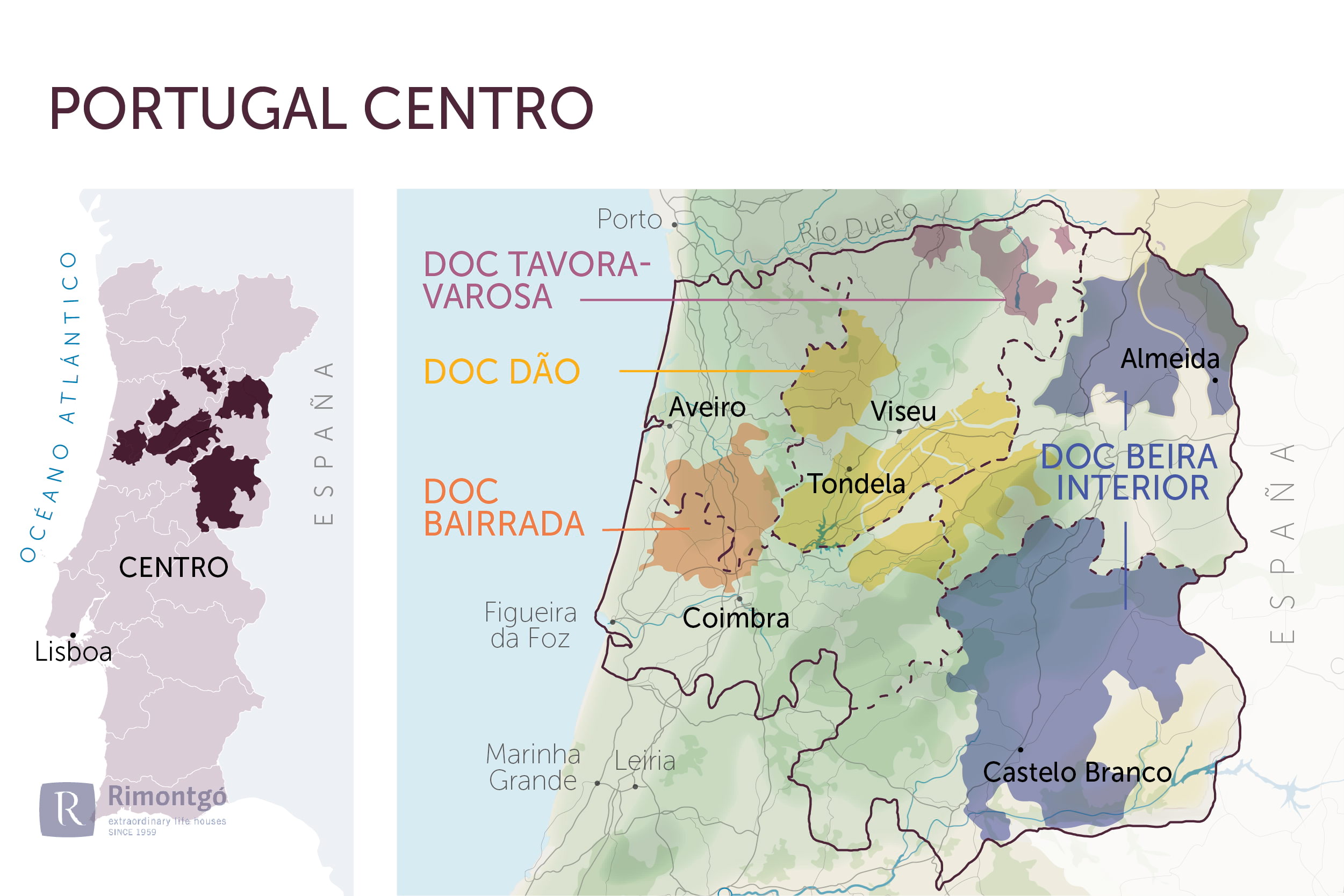 Portugal's central region
Portugal's central region has several wineries for sale spread out its districts: Aveiro, Viseu, Guarda, Coimbra and Castelo Branco.
The capital is the city of Coimbra. Vineyards in this region expand around the territory, although the wine elaboration is focused on the Designations of Origin DOC Bairrada, DOC Dao and DOC Tavora-Varosa and DOC Beira Interior and the IGP Beiras.
Wineries belonging to the centre of Portugal produce red and white wines and sparkling from several grape varieties.
Bairrada is known by the unique variety Baga, which is unusual in Portugal. Since 2003, the DOC allows a wide grape variety, both local and foreign. Red wines are from the types Baga or Poerinha and the rest are from Castelao, Moreto and Tinta Pinheira among the local varieties and for the foreign varieties are Cabernet Sauvignon, Merlo and Syrah. There are other varieties authorized: Alfrocheiro Preto, Bastardo, Preto de Mortagua, Trincadeira, Jaen and Agua Santa. White wines are produced with the varieties Bical, Maria Gomes and Rabo de Ovelha, Arinto, Cerceal, Chardonnay, Sauvignon Blanc and Cercealinho. 65% of the sparkling wine in Portugal is produced in Bairrada.
For the Dao wines, the red wines represent the 80% of the production of the DOC and are elaborated from the traditional varieties of the region Jaen (Mencía), Touriga Nacional, Aragonez (Tinta Roriz/Tempranillo) and Alfrocheiro; other varieties are Tinta Pinheira (Rufete), Tinta Carvalha, Baga de Louro, Alvarelhao and Bastardo. Cabernet Sauvignon is also found in the region. White wines are made from the varieties Encruzado, Malvasía fina, Bical, Maria Gomes, Arinto, dona Branca, Barcelo, Fernao Pires and Cercial.
The increased use of Touriga Nacional has provided fineness and bouquet to region's wine; however, in the area, blend varieties are the best wines. Encruzado has become the standard of the region with national recognition.
For the Tavora-Varosa wines, the sparkling wine is the dominant in the region with the grape Malvasía Fina, although the plantations of Chardonnay and Pinot Noir are increasing.
For the Beira Interior wines from the regional varieties are Marufo, Rufete, Bastardo and Mouristo for reds and for whites are Síria for sparkling, Codo, Fontecal, Arinto, Malvasía and Alva.
In the region Beira Alta, special mention to the white varieties Arinto, Cercial, Malvasía, Rabo de Ovelha, Alva and Folgazao.
The traditional varieties for Beira Baja are Castelao, Moreto, Mortágua, Rufete and Trincadeira for the reds and Arinto, Cerceal, Folgazao, Alva and Tamarez for the whites.
Discover more wineries and vineyards for sale in these wine regions in Portugal
Tap on the map to activate Zoom