Find your winery or vineyard
Infographic of the Denomination of Origin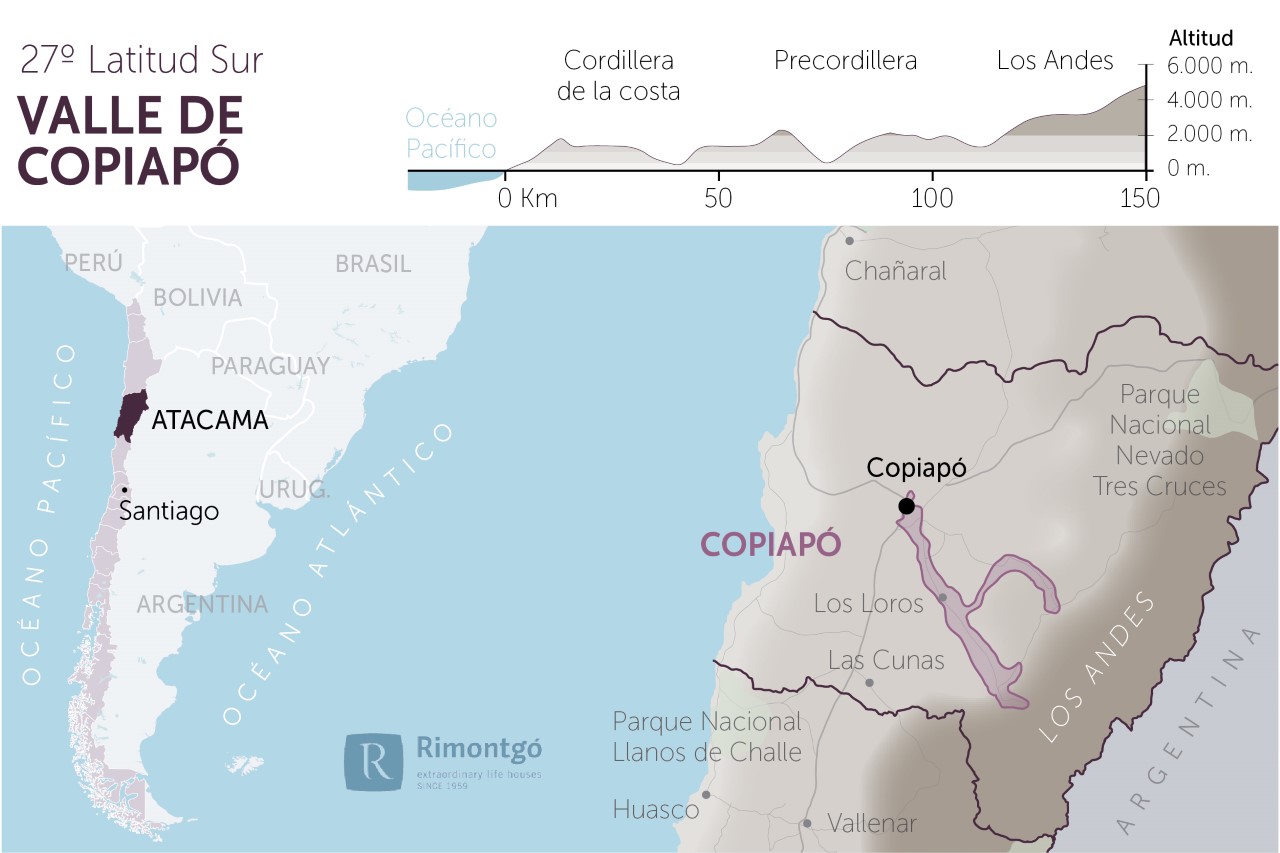 Change to imperial units (ft2, ac, °F)Change to international units (m2, h, °C)
Total surface area:

300 ha741 ac

Altitude of the vineyards:

Min: 250m

Max: 1.000m

Min: 820ft

Max: 3.281ft

Temperature:

Min: 10º

Max: 27º

Min: 50°F

Max: 81°F

Yearly rainfall:

28 l/m2301 l/ft2
Designation of Origin Valle de Copiapó
LOCATION AND HISTORY
The designation of origin Valle de Copiapó completely covers the homonymous province and is located within the winemaking region of Atacama. As it happens in the rest of the region, located on the northernmost point of Chile, the climate is very hot, desert-like, reason why water resources aimed to the agricultural activity are limited. The wineries found in this designation of origin are small-sized supplied by water coming from natural tributaries. The introduction of latest technologies aimed to the irrigation technique has allowed to compensate the harsh soil conditions and boost production directed to be exported. The Spanish presence in this designation of origin led to introduction of techniques that currently allow the production – as is the case with the Valle de Huasco- of pajarete, a sweet wine.
SOILS
In the Copiapó Valley soils are dessert-like, thin to moderately deep (50-100 cm).
In the high Andean plateau there are undeveloped soils, little evolved, with critical hydrological regime.
In the high mountain range, with an altitude of about 3,000 are found the wetlands with organic or mineral soils, very stratified with high levels or organic content and salinity.
The Central Valley presents arid soils with low levels of organic content and strongly stratified. There are also salt flats due to the extinction of inner lakes. Soils with high salt content and high pH. The soils of the valleys are of alluvial origin, stratified, although they are only representative in this region.
In the Chilean Coastal Range, the soils are of colluvial origin, sandy loam and low in organic content. Salt flats can also be formed.
CLIMATE
In the designation of origin Valle de Copiapó, there are several variations on the same type of climate (desert). Thus, in the coastal border, although it penetrates into the interior of the valley, we found a coastal desert climate, characterized by abundant morning clouds, the so-called "camanchaca", a mist that goes from the ocean to the coast. Annual rainfall is 18 mm, with average temperatures of 16º and an average relative humidity of 74º. The Copiapó river draws the line of the desert climate of the interior, with absence of clouds and rainfall and very high temperatures throughout the day. Finally, to the south of the Copiapó Valley we find the marginal desert climate, with an average annual temperature of 15º and higher rainfall. This growth in precipitation makes it possible to attenuate the desert climate.
TYPE OF GRAPE
Despite the harsh soil conditions, the designation of origin Valle de Copiapó has a wide variety of grapes: Chardonnay, Syrah, Pinot Noir, Merlot, Viognier, Pinot Blanc and Muscat (in all its typologies). A large part of the production of grape in the designation of origin Valle de Copiapó is aimed to table grape and the production of pisco, a popular distillate among Chilean people. Varieties of Muscat of Alexandria, Pink Muscat and Muscat of Austria and Torontel and also the variety Pedro Ximenez.
Discover more wineries and vineyards for sale in these wine regions in Chile
Tap on the map to activate Zoom