Find your winery or vineyard
1 Wineries and Vineyards for sale in DO Somontano
Infographic of the Denomination of Origin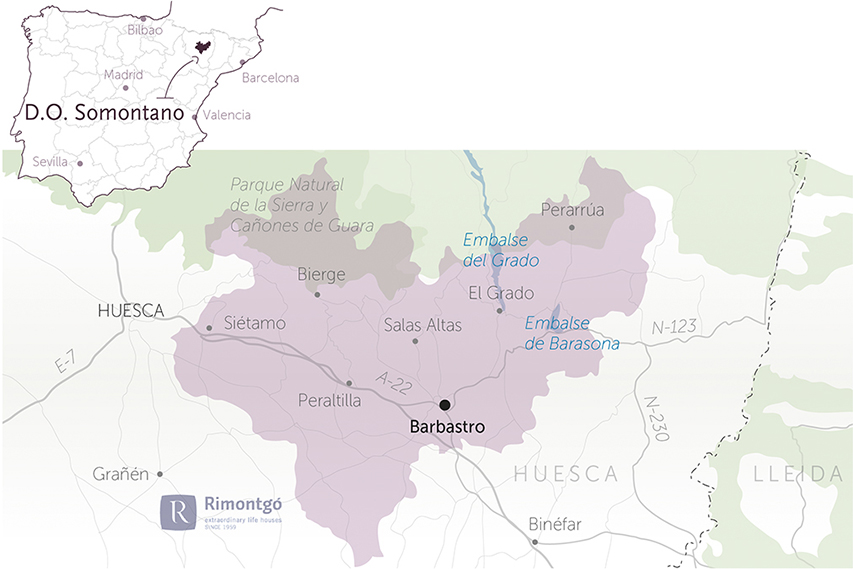 Change to imperial units (ft2, ac, °F)Change to international units (m2, h, °C)
D.O. year of foundation:

1984

Number of wineries (2017):

30

Total surface area:

4.040 ha9.983 ac

Maximum production allowed:

8.000 kg/ha7.137 lb/ac

Altitude of the vineyards:

Min: 530m

Max: 1.000m

Min: 1.739ft

Max: 3.281ft

Temperature:

Min: -1º

Max: 26º

Min: 30°F

Max: 79°F

Yearly hours of sun:

2.700

Yearly rainfall:

500 l/m25.382 l/ft2
DO Somontano
LOCATION AND HISTORY
The Designation of Origin Somontano, which was set up as such in 1984, despite having a wine tradition for centuries, is found in the center of the province of Huesca. It occupies a beautiful transition district between the border of the Pyrenees and the Ebro valley. Its name, which means 'under the mountain', comes from the Aragon district where most of the vineyards are planted. The biggest city in the area is Barbastro, 80km from the French border.
SOILS
The Somontano vineyards occupy a lush, green land with a steep slope, with heights ranging from 350-1,000 meters. We find ourselves in the valleys of the rivers, which flows from north to south to join the Ebro, which is why there is a large amount of alluvial material in the soils. There is also a high content of sandstone and clay, from which comes its bright red color, along with a bed of limestone. In general, there is low fertility, good permeability and are notably healthy.
CLIMATE
Protected from the northerly winds by the Pyrenees, Somontano has a very mild continental climate. This does not stop the extreme temperatures, with very cold winters and very hot summers. There are also sudden variations between day and night which provide excellent conditions for grape maturation.
TYPE OF GRAPE
The types of cultivated grape in this Designation of Origin combine the old with the new. The traditional Moristel and Parraleta are used for red wines and the Alcañón for the whites. Other Spanish varieties like the Macabeo, Tempranillo, Garnacha Tinta and Garnacha Blanca are planted together with imported types like Cabernet Sauvignon, Merlot or Pinot Noir. One of the main characteristics of the area is the alternation of young and old wines, which have achieved a large demand in both national and international markets in recent times.
Discover more wineries and vineyards for sale in these wine regions in Spain
Tap on the map to activate Zoom