Find your winery or vineyard
Infographic of the Denomination of Origin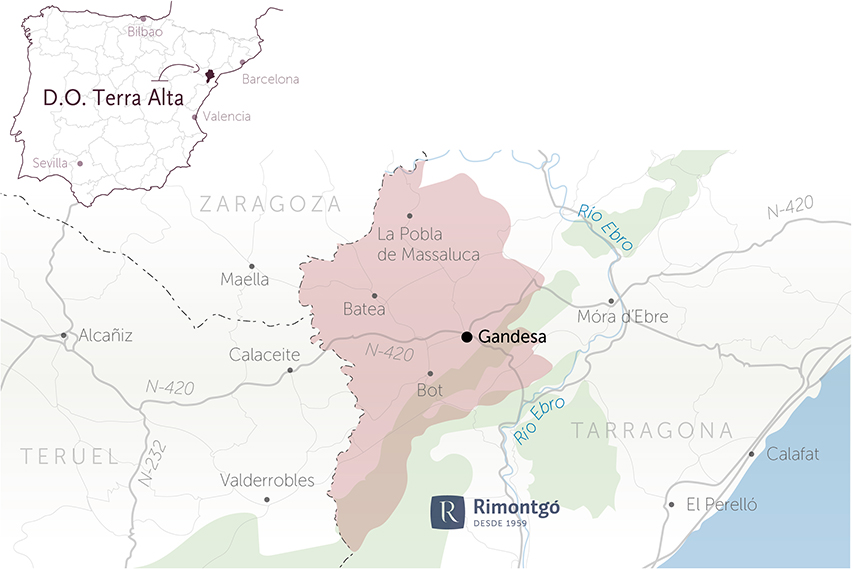 Change to imperial units (ft2, ac, °F)Change to international units (m2, h, °C)
D.O. year of foundation:

1982

Number of wineries (2017):

49

Total surface area:

5.802 ha14.337 ac

Maximum production allowed:

10.000 kg/ha8.921 lb/ac

Altitude of the vineyards:

Min: 350m

Max: 550m

Min: 1.148ft

Max: 1.805ft

Temperature:

Min: 5º

Max: 25º

Min: 41°F

Max: 77°F

Yearly hours of sun:

2.700

Yearly rainfall:

490 l/m25.274 l/ft2
DO Terra Alta
LOCATION AND HISTORY
The Designation of Origin Terra Alta is located in the south of Catalonia and covers up to 12 municipalities located in the west of the province of Tarragona. The low mountains, hills and valleys stretch south to the border with Teruel, while in the east the vineyards join the Designation of Origin Tarragona. Some of the cooperatives of the DO Terra Alta were built in the 1920s and are famous for their modernist design, by César Martinell, a disciple of Gaudí (Pinell de Brai and Gandesa are considered outstanding examples). New companies and cooperatives with a long tradition coexist in an area, until now focused on the local market, which is gradually opening up to the world.
SOILS
Terra Alta is, as its name suggests, a mountainous area of great beauty. The peaks rise to 962 meters, although the vines are planted mainly in the plateaus and valleys. Here the top layer of soil gives way to limestone and clay, low in organic content, with a significant proportion of larger elements that benefit aeration and drainage.
CLIMATE
The climate of this Designation of Origin is a mixture of Mediterranean and continental. Summers are hot and winters are very cold. The average annual temperature is 16.4 ° C and rainfall is approximately 400 mm. It is important to take into account the influence of the cierzo, a dry wind from the Ebro Valley that keeps the vines and their fruits healthy and has a considerable influence on the flavour.
TYPE OF GRAPE
Since there are very different traditional and modern wineries, the grapes grown in the DO Terra Alta are a mixture of traditional local varieties and more recently planted foreign grapes. The main varieties for whites are Garnacha Blanca, Parellada, Macabeo, Moscatel and Chardonnay. For red wines, Cariñena, Garnacha Tinta, Garnacha Peluda, Templanillo, Morenillo, Syrah, Cabernet Sauvignon and Merlot grapes are allowed. Chenin blanc, Sauvignon Blanc and Marselan are also grown in an experimental phase. The region has incorporated some technological improvements, although at the same time it conserves its artisan methods of work.
Discover more wineries and vineyards for sale in these wine regions in Spain
Tap on the map to activate Zoom