Find your winery or vineyard
Infographic of the Denomination of Origin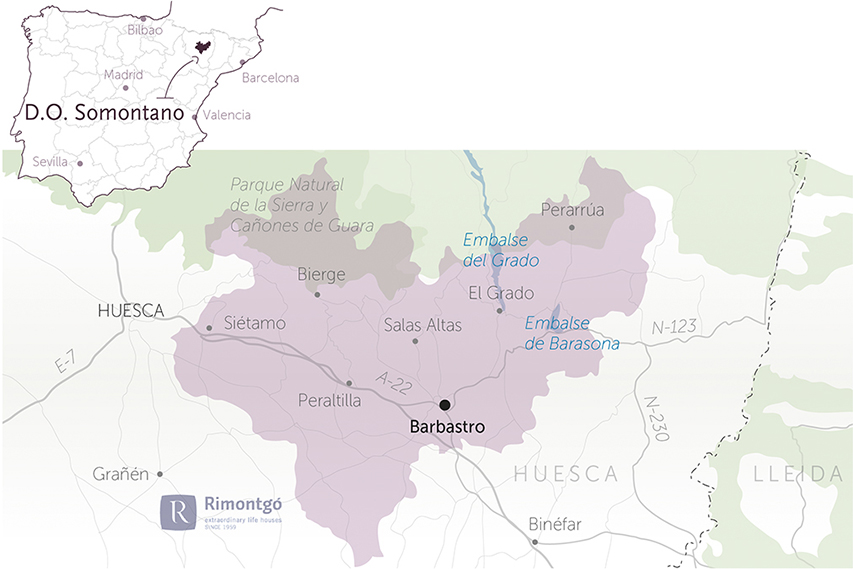 Change to imperial units (ft2, ac, °F)Change to international units (m2, h, °C)
D.O. year of foundation:

1984

Number of wineries (2017):

30

Total surface area:

4.040 ha9.983 ac

Maximum production allowed:

8.000 kg/ha7.137 lb/ac

Altitude of the vineyards:

Min: 530m

Max: 1.000m

Min: 1.739ft

Max: 3.281ft

Temperature:

Min: -1º

Max: 26º

Min: 30°F

Max: 79°F

Yearly hours of sun:

2.700

Yearly rainfall:

500 l/m25.382 l/ft2
The province of Huesca, together with Teruel and Zaragoza, make up the autonomy of Aragón. Situated in the northeast of Spain, it is a mountainous area bordered by the French Pyrenees. It consists of 202 towns and 6 judicial districts.
HISTORY OF WINE
Although Aragon's viticulture goes back to 500 B.C, it would be during the Middle Ages where it would experience a boost. The Cisterians and the Monastery of Santa María de Veruela are two key names which extended vine plantations over different areas of Huesca. The most important cultivation area is Somontano, a rural area which sits in the region with the same name, with Barbastro in the centre.
In the 19th century, they phylloxera plague in French vineyards provoked an increase in production in Huesca. Somontano gained recognition thanks to the constant work and good quality of its wines. Specifically, in the 60's, the regional cooperative was born and took its first steps towards the Designation of Origin, which was approved in 1984. From this moment, investment in wineries grew.
WINES AND WINERIES
The Designation of Origin Somontano is found in Huesca, around which the Ruta del Vino is joined. The most highlighted wineries in Huesca are Bodegas Enate, Bodegas Blecua, Bodegas Viñas del Vero, Bodegas Sommos, Bodegas Ballabriga, Bodegas Laus, Bodegas Idrias, Bodegas Obergo, Bodegas Batán de Salas de Beroz, Bodegas Chesa, Bodegas Alodia, Bodegas Estada and Bodegas Aldahara.
POINTS OF INTEREST
Huesca is a mountainous province with great snowy landscapes near the Pyrenees. Areas such as the Ordesa and Monte Perdido National Park are declared World Heritage Sites by UNESCO. It also has famous ski resorts like Candanchú and Formigal. From a cultural aspect, it has local heritage areas like Jaca, Barbastro and San Juan de la Peña, as well as the old town of the city with the same name. The Camino de Santiago passes through Huesca and the Somontano Wine Route can be done.
D.O./Valle (wine regions)
Discover more wineries and vineyards for sale in these wine regions in Spain
Tap on the map to activate Zoom