Find your winery or vineyard
Infographic of the Denomination of Origin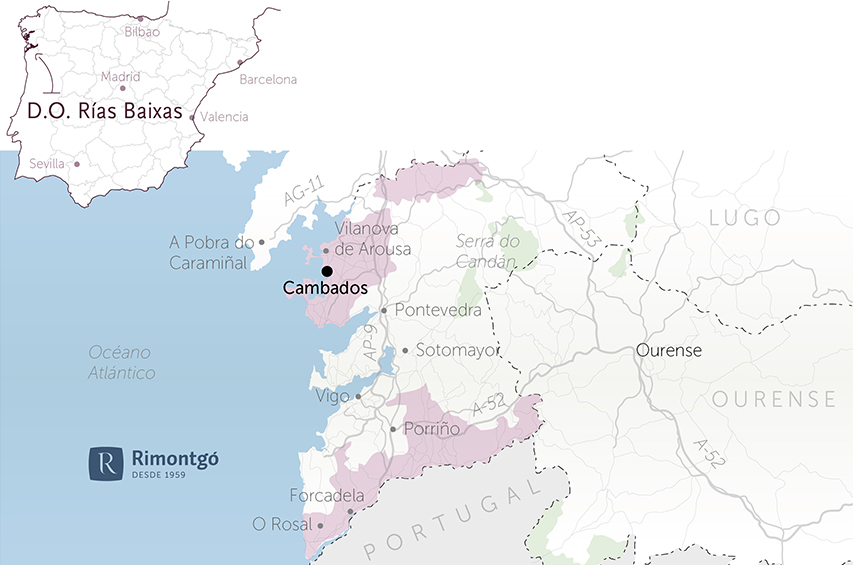 Change to imperial units (ft2, ac, °F)Change to international units (m2, h, °C)
D.O. year of foundation:

1988

Number of wineries (2017):

181

Total surface area:

4.077 ha10.074 ac

Maximum production allowed:

12.000 kg/ha10.706 lb/ac

Altitude of the vineyards:

Min: 0m

Max: 300m

Min: 0ft

Max: 984ft

Temperature:

Min: 6º

Max: 26º

Min: 43°F

Max: 79°F

Yearly hours of sun:

2.223

Yearly rainfall:

1.691 l/m218.202 l/ft2
Pontevedra
Pontevedra is a province in the northwest of Spain situated in the southwest of Galicia. Bordered by the other three Galician provinces: A Coruña, Lugo and Ourense. It also borders with Portugal and the Atlantic Ocean. Its capital bears the same name, but it has famous tows such as Marín and Sanxenxo.
HISTORY OF WINE
The Rías Baixas region has a large winemaking tradition and is famous for producing Albariño wine. Some people say that the Cluny monks where who introduced this grape to the area, and they did it through the Armenteira monastery in Pontevedra in the 7th century. Others consider it to be a mere theory, since the native variety was already in the south of Galicia. Whatever the case may be, it is certain that the Cistercian monks gave a big boost to their cultivation.
The wines were not exported to other European regions until the 16th century. In the beginning, they were only stored in the monasteries, but with the expropriation of Mendizábal in the 18th century, they started to transfer them to manors and other large houses. Nevertheless, it wouldn't be until the middle of the 20th century when the variety would be extended across all the territory and become visible in the national and international markets.
WINES AND WINERIES
The Pontevedra wineries are classified into the Rías Baixas Designation of Origin whose recognition was obtained in the 80's and boosted the business of Albariño wine. Since then, there has been an evolution that is evident by the division in subzones: Val do Salnés, Condado do Tea, O Rosal, Soutomaior and the Ribeira do Ulla.
Some of the most outstanding wineries in Pontevedra are Pazon de Lusco, Adega Dos Eidos, Adega Laureatus, Adega Valdés, Adegas Gran Bazán, Bodega Remesal, Bodegas Aquitania, Bodegas As Laxas, Bodegas Palacio de Fefiñanes, Bodegas Castro Martín, Bodegas Fillaboa, Bodegas La Val, Bodegas Marqués de Vizhoja, Bodegas Martín Codax, Bodegas Terras Gauda, Bodegas Viña Nora, Quinta Couselo, Bodegas Santiago Ruiz, Bodegas Mar de Frades, Pazo Bayón, Pazo Quinteiro da Cruz, Lagar de Cervera, Pazo Barrantes, Pazo San Mauro, Bodegas Morgadío, Bodegas Carballal de Sande, Bodegas Zarate and Bodegas Moraima.
POINTS OF INTEREST
The green landscape of Pontevedra full of valleys and rivers, it is worth mentioning the National Park of the Atlantic Islands and their magnificent beaches with Atlantic character. The fact that many religious orders, the majority dedicated to vine cultivation, settled around the river allowed the conservation of Romanesque heritage. The traditions of this region are reflected in its festivals such as A Rapa das Bestas from Sabucedo and the Romería Vikinga from Catoira, declared an Internation Tourist Interest. Seafood is the main protagonist of the gastronomic offer all around Galicia.
D.O./Valle (wine regions)
Discover more wineries and vineyards for sale in these wine regions in Spain
Tap on the map to activate Zoom