Find your winery or vineyard
9 Wineries and Vineyards for sale in Lisboa
Infographic of the Region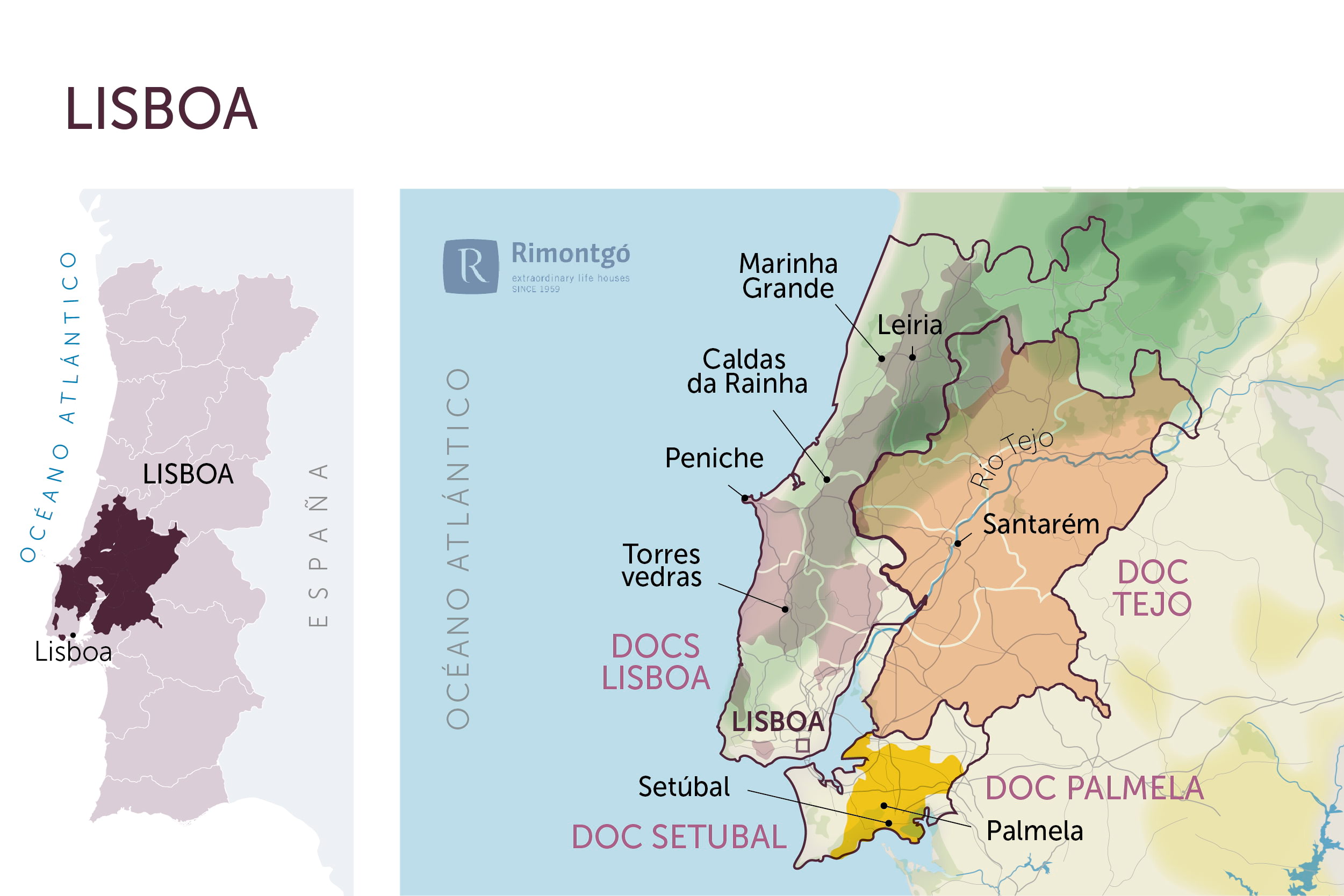 Lisbon
The Lisbon region, located in the west of Portugal, is one of the most Atlantic regions of the country and has many wineries for sale in its districts: Lisbon, Leiria, Santarém and Setúbal. The capital is the city of Lisbon.
The vineyards in the Lisbon region are spread throughout the Atlantic territory, although the wine production is centred on the Designations of Origin of DOC Carcavelos, DOC Colares, DOC Bucelas, DOC Alenquer, DOC Arruda, DOC Torres Vedras, DOC Óbidos, DOC Alcabaça, DOC Encostas d'Aire as well as the DOC Setúbal and DOC Palmela and DOC Tejo and the IGP of Lisbon and Tejo.
Wineries in the Lisbon region produce mainly reds and whites with many different grape varieties, as well as Muscat sweets.
The most important varieties for the Lisbon DOCs, the regional red wines are Trincadeira, Camarate, Castelao, Ramisco Joao de Santarém, Tinta Miuda, Preto Marinho. The white wines are produced from the varieties Arinto, Vital, Esgana Cao, Fernao Pires, Boal Ratinho, Arinto and Galego Dourado and Jampal. However, Alvarinho, Chardonnay, Viognier, Aragonez, Cabernet Sauvignon, Syrah and Touriga Nacional are also allowed. In the north, Rabo de Ovelha, Malvasía, Ratinho, Seara Nova, Tamarez and Baga, Boal de Alicante and Pinot Noir are also allowed.
For Setúbal and Palmela wines the varieties are Touriga Nacional and Touriga Franca, Tinta Roriz, Tinta Barroca, Tinta Cao, Sousao, as well as tinta Amarela, Bastardo and Moursico and for white varieties: Viosinho, Rabigato and Gouveio, Malvasía fina, Codega do Larinho, Arinto and Moscatel Galego.
Tejo wines are more whites than reds. Whites are from the varieties Fernao Pires, the most predominant in the region, Boais, Jampal, Terrantez and Rabo de Ovelha. The most predominant red varieties are: Trincadeira, Mortágua, Joao de Santarem and Preto-Martinho.
Discover more wineries and vineyards for sale in these wine regions in Portugal
Tap on the map to activate Zoom