Find your winery or vineyard
Infographic of the Denomination of Origin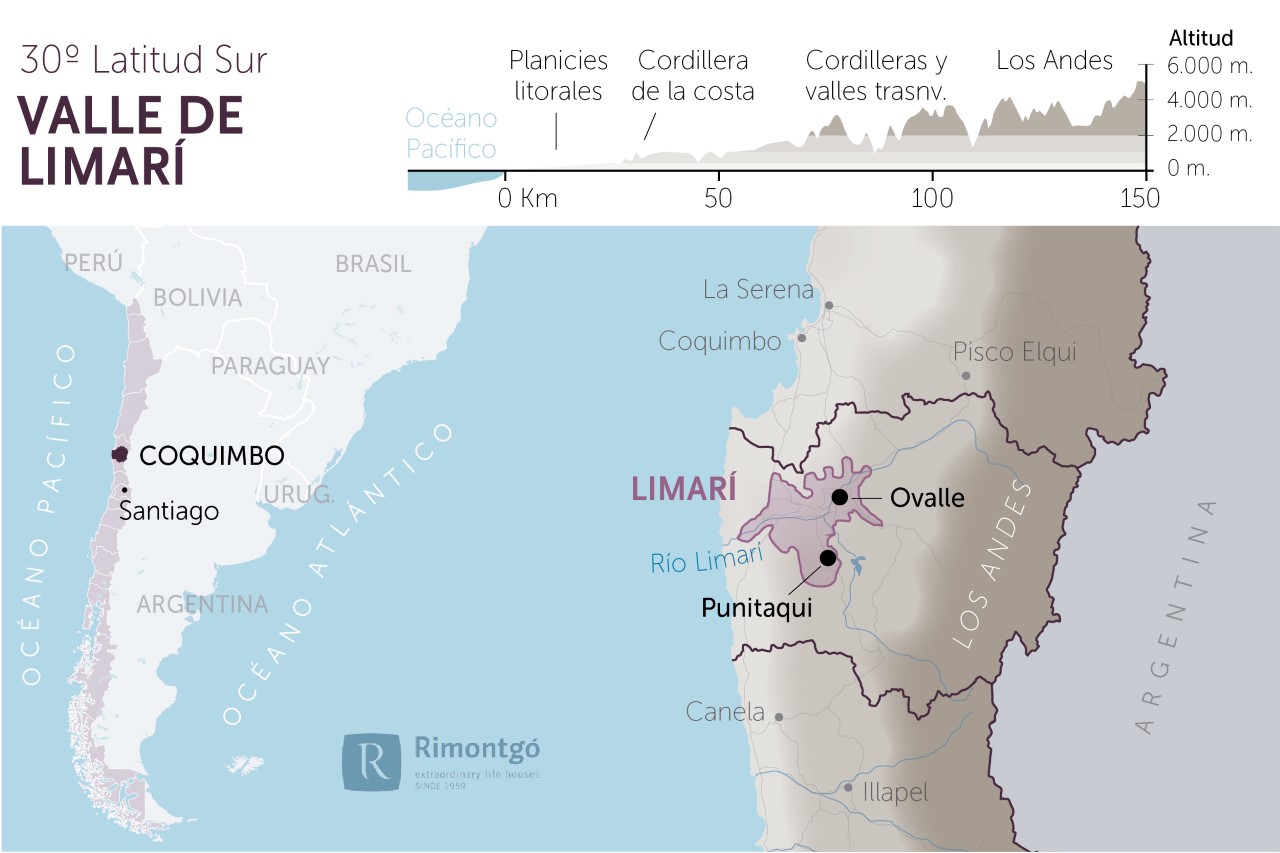 Change to imperial units (ft2, ac, °F)Change to international units (m2, h, °C)
Total surface area:

2.800 ha6.919 ac

Altitude of the vineyards:

Min: 200m

Max: 600m

Min: 656ft

Max: 1.969ft

Temperature:

Min: 6º

Max: 23º

Min: 43°F

Max: 73°F

Yearly rainfall:

94 l/m21.012 l/ft2
Limarí
The province of Limarí, with capital in the city of Ovalle, as it happens with the province of Elqui, was named after the homonymous river that crosses it, with a length of 64 kilometres.
HISTORY OF WINE
The vine cultivation in the province of Limarí is structured around hills planted with vineyards, within close proximity to the small-sized of the province. During the 90's the Limarí Valley was rediscovered as an appropriate settlement for the cultivation of noble vines in search of greater quality wines. Both the weather conditions and the soils of the Limarí province are similar to those of the neighbouring Elqui province. In Limarí, there are about 1,700 ha of vineyards of which about 50% are dedicated to the cultivation of Cabernet Sauvignon.
The marquis, Francisco Pizarro, conqueror of Tawatinsuyo, introduced the vined in the viceroyalty of Perú, mainly in the Captaincy General of Chile, in the regions of Copiapó and Coquimbo.
WINES AND WINERIES
In the valley adjoining the Limarí river we can find eight wineries, also called 'viñas': Viña Francisco de Aguirre (a name reminding of the Spanish soldier and explorer who participated in the conquer of Chile, Dalbosco, Ocho Tierras, Maycas del Limarí, Concha, Toro, Farr and Tabalí, plus two business dedicated to the pisco production: Pisco Mal Paso and Pisco Ovalle. The two wineries Viña Tabalí and Viña Tamaya have wine tours to enjoy walking nature and tasting wines. It is worth mentioning that vineyards of Viña Tabalí keep petroglyphs engraved thirteen centuries ago by natives originating from the area of El Molle.
POINTS OF INTEREST
Tourism in the Limarí province is connected to the winemaking sector thanks to the 'Ruta del Vino del Valle del Limarí' (the wine route of the Limarí valley), an activity that combines a visit through the winery and historical locations of the province with the contact with nature.
A visit to the 'El Valle del Encanto' (the Enchanted Valley) will allow us to know several petroglyphs and pictographs by the natives of Molle and diaguita cultures. The vestige of these cultures is also present in the Limarí Museum that hosts hundreds of pottery and ceramic objects belonging to ancient native cultures settled in the province such as the Molle, Diaguitas and Las Ánimas.
Among the natural charms stand out the Cordillera de Talinay and the Forest of Fray Jorge National Park have been declared World Biosphere Reserve by UNESCO. It is an extension of 10,000 ha of forest, located in an enclave almost desert. The survival of this natural park with a weather extremely difficult is thanks, in part, to the effect of the famous 'camanchaca' a marine stratocumulus cloud coming from the Pacific Ocean and becomes trapped and accumulated in this area of high hills. Among the fauna of Fray Jorge National Park, we find hawks, foxes and partridges.
D.O./Valle (wine regions)
Discover more wineries and vineyards for sale in these wine regions in Chile
Tap on the map to activate Zoom